The Huron Carole
In benefit of The Community Food Sharing Association
November 25, 2016 at 8:00 pm

Featuring Tom Jackson, Beverley Mahood, Kristian Alexandrov, and Shannon Gaye, with the Inclusion Choir.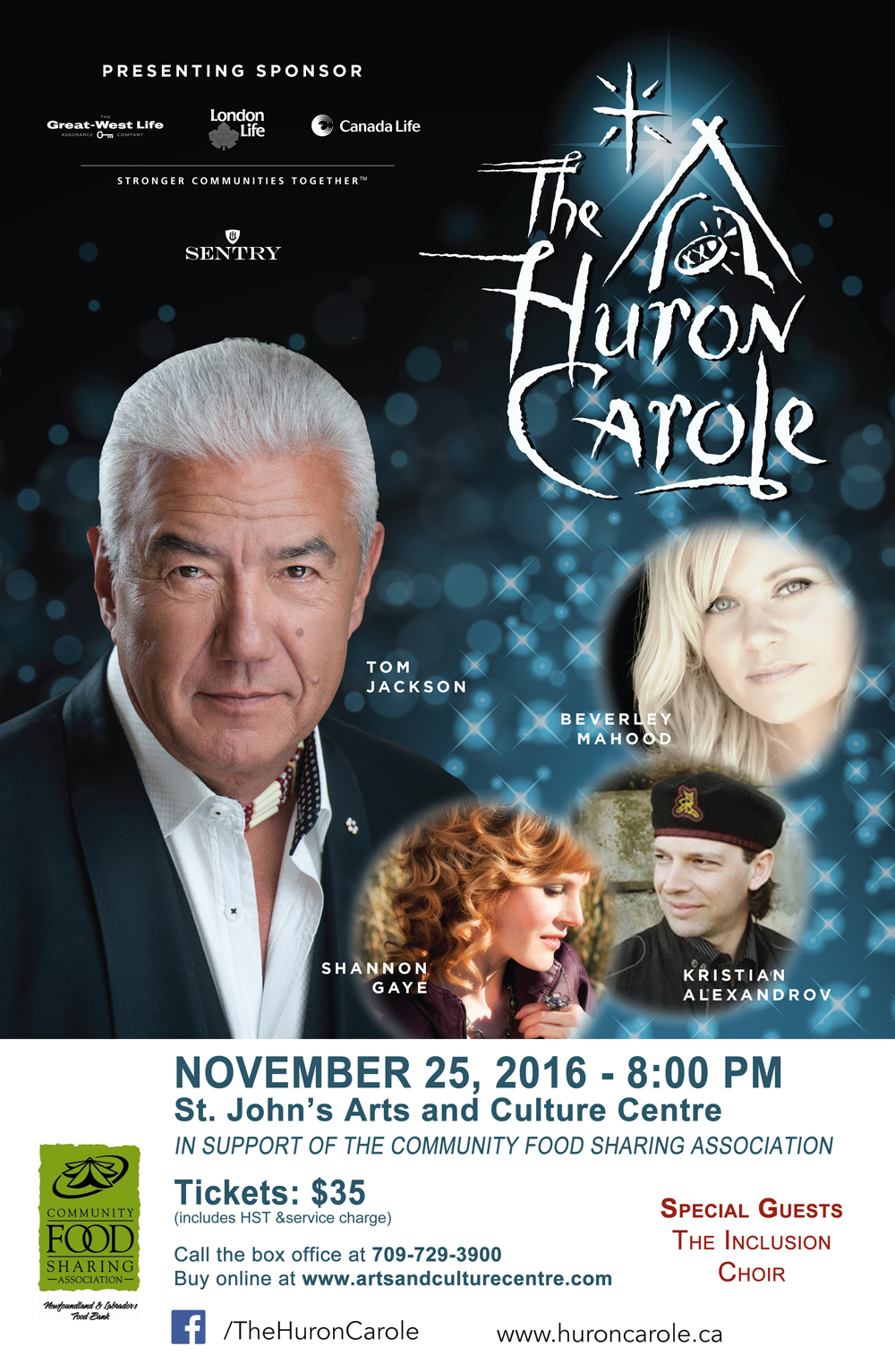 The Huron Carole is a state-of-the-art, multi-media magical journey featuring enchanting songs of Christmas with a shimmering light of faith and plenty of TomFoolery. At the heart of this classic story is how Christmas literally saved Tom's life and helped provide hope for millions of needy Canadians for almost three decades.
The comment has been heard over and over: "Christmas doesn't start until I've been to The Huron Carole."
Tom Jackson, founder of The Huron Carole Benefit Concert Series, is a musician, beloved TV personality (North of 60, Star Trek, Law and Order), and long-time champion for the marginalized. Having experienced life on the streets himself, he discovered music was his way out – and an opportunity to help others.
The Huron Carole is a project of the Christmas & Winter Relief Association whose mandate is to support organizations doing hands-on work with the homeless and hungry in Canada.
Joining Tom onstage is CCMA humanitarian and multi-talented entertainer, Beverley Mahood, Canadian Smooth Jazz Award winner, Kristian Alexandrov, and acoustic soul artist, Shannon Gaye. They are being joined by local performers The Inclusion Choir.
The Huron Carole is a Christmas story. A story filled with reflection, humour, passion, and the journey of a homeless man, through darkness to light. Traditional, contemporary and signature music releases the spirit of Christmas into one's heart. Miracles do not go out of style.
Proceeds from the St. John's show are in support of The Community Food Sharing Association.
Find out more about the featured artists here: http://huroncarole.ca/artists/
For more information visit: http://huroncarole.ca/
Availability

 
  Excellent
 
  Good
 
  Limited
 
  Sold Out