The Chieftains and Friends
"The Irish Goodbye Tour"
Presented by the Arts & Culture Centre
Saturday, October 26, 2019 
Sunday, October 27, 2019
St. John's - Arts & Culture Centre
 Special Guest Appearances by
ALAN DOYLE and Members of LADY COVE CHOIR 
---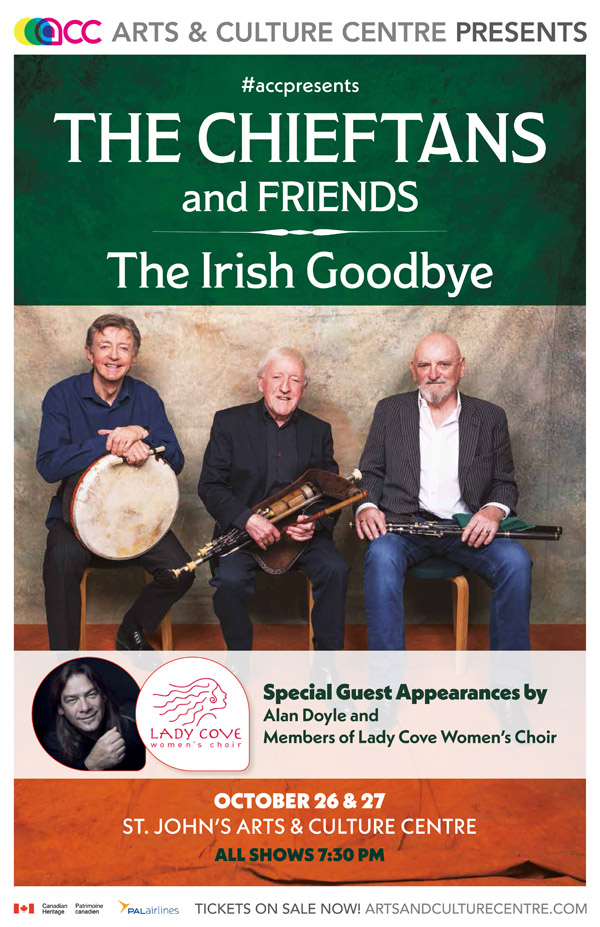 Synopsis
2019 marks 57 years since The Chieftains began their illustrious journey. Since 1962 the six-time Grammy Award winners have been highly recognized for reinventing traditional Irish music on a contemporary and International scale. Their ability to transcend musical boundaries to blend tradition with modern music has notably hailed them as one of the most renowned and revered musical groups to this day.

To celebrate their 50th Anniversary in 2012, The Chieftains once again invited friends from all musical styles to collaborate on their latest album, Voice of Ages. Featuring some of modern music's fastest rising artists (Bon Iver, The Decemberists, and Paolo Nutini among them), this album is proof that their music transcends not only stylistic and traditional boundaries but generational as well. 

The Chieftains are never afraid to shock purists and push genre boundaries and the trappings of fame have not altered The Chieftains' love of, and loyalty to, their roots. They are as comfortable playing spontaneous Irish sessions as they are headlining a concert at Carnegie Hall. After over 50 years of making some of the most beautiful music in the world, The Chieftains' music remains as fresh and relevant as when they first began.

Web: www.thechieftains.com
Facebook: www.facebook.com/thechieftains
Vimeo: vimeo.com/35231996
---
Details
TICKETS:  $100 Each HST & service charge included
DATES & SHOWTIME: Sat, October 26 AND Sun, October 27 at 7:30 pm
LOCATION: ST. JOHN'S, Arts & Culture Centre (95 Allandale Road)
RECOMMENDED AUDIENCE AGE: All Ages
SHOW LENGTH: 90 mins
INTERMISSION: None
BOX SEATS: The St. John's Arts & Culture Centre has box seats. To check on availability and to book these seats call the box office at 709-729-3900 (they are not available online). 
ONLINE SALES: Online sales for all shows are available until 2 hours before show time.