Revue 2014
Rising Tide Theatre
On Tour
 

Revue 2014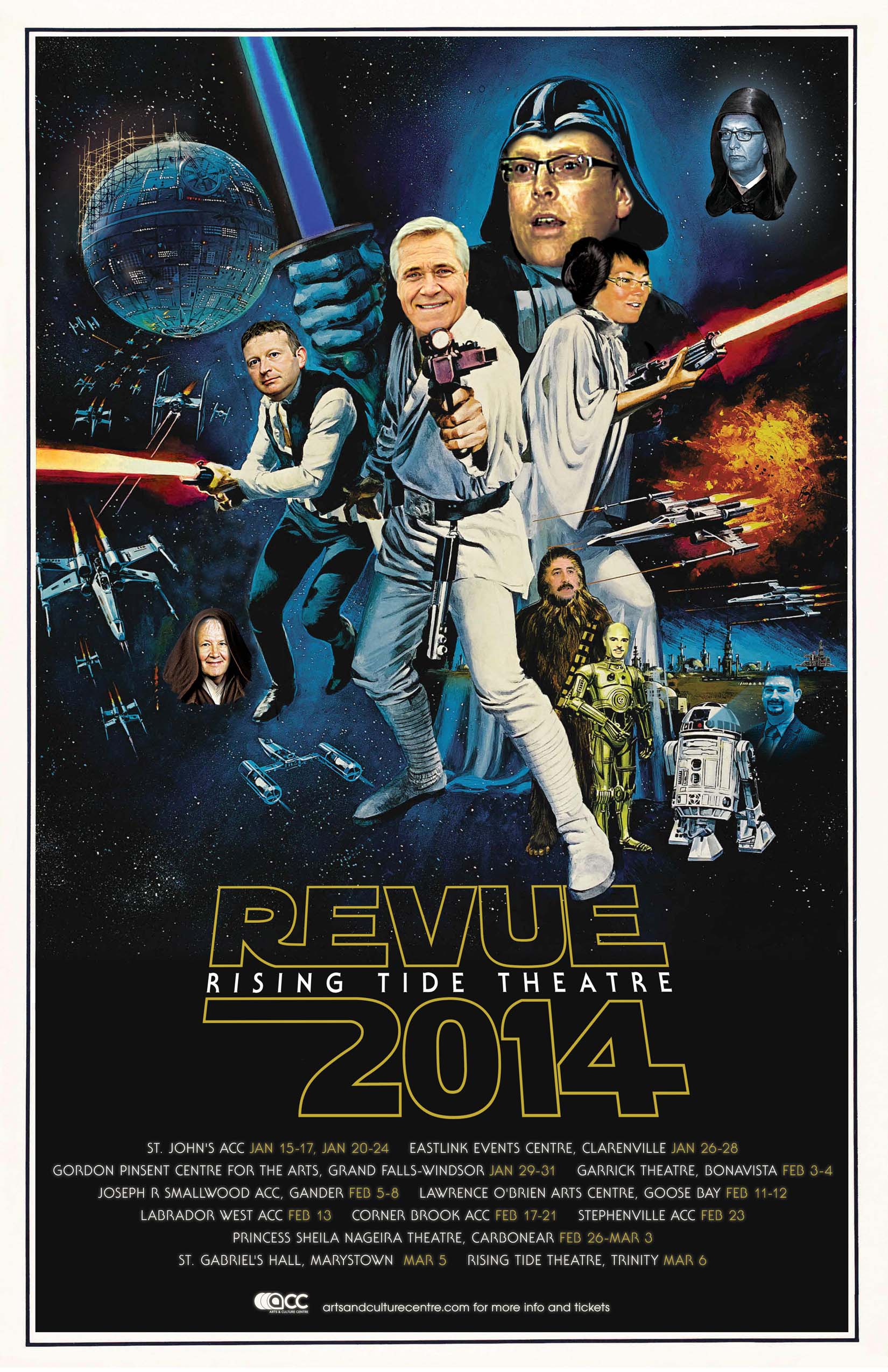 Everything is falling –oil prices, PC's, pavement. The only thing going up is the deficit and Dwight Ball's seat mates. Alice has fallen through the rabbit hole or was that Charlene? Oh dear, oh dear says the March Hare "shall we go visit the queen, well at least her representative Frank Fagan, we need some wit, I mean an election writ!
What a year for Revue! Will Bill Barry , Frank Coleman and Judy Manning make their first appearance in the show? Will Steve Kent blow up and burst from enthusiasm? Will the NDP fall lower than a barrel of oil? Will Nick McGrath be flattened by the nearest paving truck?
So much to write about and that's just a few of the politicians. Then there are roundabouts in Paradise, stranded airline passengers in Stephenville, whales rotting in Trout River, Danny scoring for the ice caps, nurses from Jamaica and tons more. Stay tuned. We will fill you in on more as we go along. All the old gang are back for the 30th year!
Tour Dates:
January 15-17, 20-24 - St. John's ACC
January 26-28 - Clarenville
January 29-31 - Grand Falls ACC
February 3 & 4 - Bonavista
February 11 & 12 - Goose Bay
February 13 - Labrador West ACC
February 17-21 - Corner Brook ACC
February 23 - Stephenville ACC
February 26-March 3 - Carbonear
March 5 - Marystown
March 6 - Trinity
Click a date above and the Buy Ticket link will appear for the appropriate location below. Please ensure you're purchasing ticket for the correct venue!
Availability

 
  Excellent
 
  Good
 
  Limited
 
  Sold Out
QUICK INFO
Performance
Revue 2016
Dates
January 18-21, 2017
March 6-9, 2017
Time
8:00 pm
Venue
ACC St. John's
Price Range
$30 Adults
$28 Students & Seniors
(HST and Service Charge Included)