Rock of Ages
Presented by TaDa! Events
March 31 - April 3, 2016 at 8:00 pm

Rock of Ages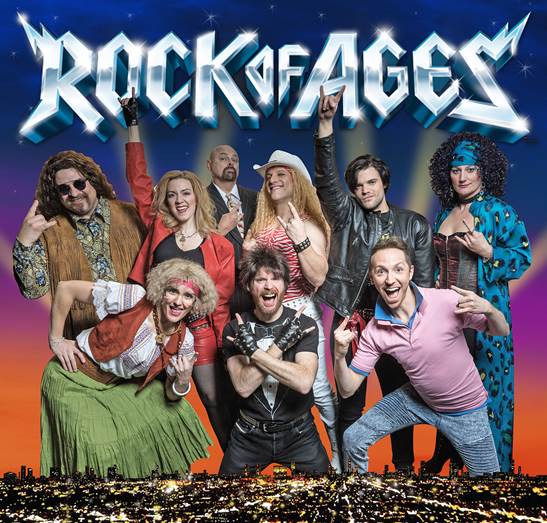 In 1987 on the Sunset Strip, a small-town girl named Sherrie meets a big-city dreamer named Drew and in L.A.'s most legendary rock club, they fall in love despite some hilarious missteps along the way.  
This rocking musical comedy comes at you strong with 28 of the greatest rock 'n roll songs of the 1980s. There's lots of comedy to go with the great music, especially when it comes to Dennis – owner of the Bourbon Room, Lonny – his Sound Engineer extraordinaire, and Stacee Jaxx – the zoned out rock god playing his final show at the bar in a last-ditch effort to avoid its demolition.  
Rock of Ages frequently "breaks the fourth wall", bringing the audience right inside the Bourbon Room and all the fun!
Craig Sharpe of Canadian Idol fame makes his theatrical debut as Drew, joined by Courtney Fowler as Sherrie, Paul E. Wilson as Lonny, Chris Adams as Stacee Jaxx, John Andrews as Dennis, Wayne Pardy as Hertz, Sabrina Roberts as Regina, Keith Power as Franz, and Kelly-Ann Evans as Justice.  
With Recording Artists:  Amanda Gosse, Chris Hendry, Jordan Coaker, Amy Wilson and Justin Nurse
Musical Theatre Veterans: Andrew Williams, Krista Howe Croke, John Williams, Emily Follett, Holly Daley, Lynn Panting, Zoe Vallee, Faith Hiscock, and Jennifer Mackey.
Dancers: Sarah Bonnell, Connie Parsons, Hilary Walsh, Garrett Wells and Melissa Power.
Backed by a killer rock band:  Bill Brennan, Glen Collins, Mark Peddle, Mike Billard, Cordell Clarke - complete with long hair and an attitude!
Length of Show: 2 hours  |  Intermission: 15-20 mins  | Recommended Audience Age: 14 years and up. Adult content & language. Parental discretion advised.
Availability

 
  Excellent
 
  Good
 
  Limited
 
  Sold Out