The Battle of the Somme
Presented by the British High Commission in co-operation with the Government of Newfoundland & Labrador, & Memorial University
September 30, 2016 at 7:00 pm

Free screening of 1916 film with live score performed by MUN Chamber Orchestra.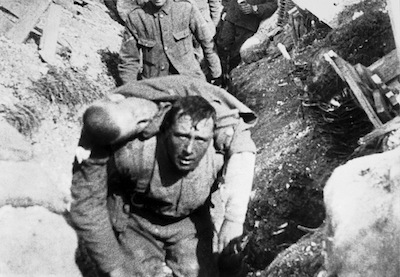 Tickets will be available on September 6. There will be a limit of 6 tickets per order.

The British High Commission as a gift to Newfoundland and Labrador, are presenting a free public screening of the 1916 film The Battle of the Somme along with a live performance of Laura Rossi's 2006 accompanying score. 
The moving score, commissioned in 1996 by the Imperial War Museum, will be performed live at the St. John's Arts and Culture Centre (ACC) by the Memorial University Chamber Orchestra under the direction of Vernon Regehr.
The 1916 film, The Battle of the Somme , is one of the jewels in the Imperial War Museum's collection. It is a compelling documentary record of one of the key battles of the First World War and the first feature-length documentary film record of combat. Seen by over 20 million people after its release in August 1916 – when the battle was still raging - The Battle of the Somme was recognized at the time as a phenomenon that allowed the civilian home-front audience to share the experiences of the front-line soldier and the brutal reality of the First World War. It is the source of many iconic images from the War, which remain in almost daily use 100 years later. 
British High Commissioner Howard Drake said:
"The sacrifice of Canadians and Newfoundlanders during the First World War, in particular that of the Newfoundland Regiment at Beaumont-Hamel, left an indelible mark on the history of the nation and the province. I know that nearly everyone in Newfoundland will have an ancestor who fought or died at the Somme. Through this film and its poignant score, we can witness their true sacrifice, helping us honour and remember them. I am so pleased it has been possible to present it here in St John's."
This St. John's screening is one of 100 performances that contribute to the Somme100 FILM Project, an international initiative to mark the 100th anniversary of the WWI Battle of the Somme during 2016. More information can be found at www.somme100film.com. 
Availability

 
  Excellent
 
  Good
 
  Limited
 
  Sold Out
QUICK INFO
Performance
The Battle of the Somme
Dates
September 30, 2016
7:00 pm
Venue
ACC St. John's
Price
FREE
Tickets available starting September 6.

Limit of 6 tickets per order.