All Shook Up
Presented by The Fluvarium & The St. John's ACC
November 10 - 13, 2016 at 8:00 pm
 

All Shook Up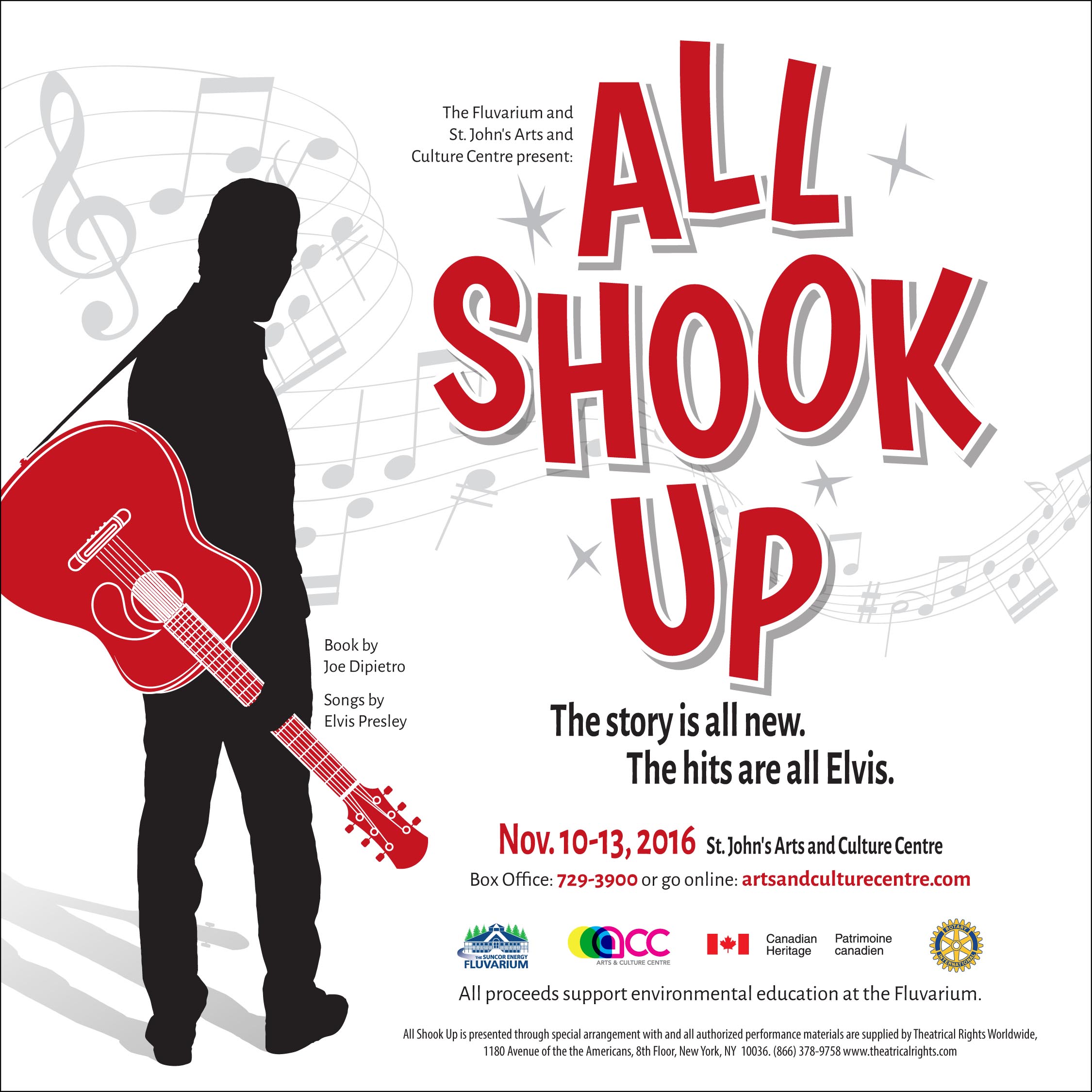 In 24 hours in 1955, somewhere in middle America, Natalie meets a mysterious, leather-jacketed, guitar-playing stranger and together they bring the magic of romance, the energy of dance and the power of rock & roll to a small town.
All Shook Up features the music of Elvis Presley and a hilarious story created by Joe DiPietro.
Directed by Timothy Matson, All Shook Up is a musical comedy built around a number of songs made famous by Elvis Presley. The story is all Joe DiPietro's, inspired by the lyrics of 24 Elvis' Presley classics. It's NOT a biographical revue.  
The musical score, conducted by Grant Etchegary and vocally directed by Kiersten Noel, includes the  beloved Heartbreak Hotel, Love Me Tender, Don't Be Cruel, Can't Help Falling in Love, Blue Suede Shoes , and of course the title tune, All Shook Up .  
Choreographed by Melissa Maynard-Power, the era of the fabulous 50s will come alive and have you singing along in your seats. 
All Shook Up stars Kristin Murphy, Jeff Simms, Robyn Pearce, Kyle McDavid, Amy Wilson, Scott Antle, Mackenzie Drover, Andrew Preston, Vicki Harnett, and Wayne Pardy. These talented actors and singers will amuse and have you dancing in your seat!
*All proceeds support environmental education at the Fluvarium.
The St. John's Arts & Culture Centre has box seats. To check on availability and to book these seats call the box office at 709-729-3900 (they are not available online). Online sales for all shows are available until 2 hours before show time.
Availability

 
  Excellent
 
  Good
 
  Limited
 
  Sold Out
QUICK INFO
Performance
All Shook Up
Dates
November 10-13, 2016
Time
8:00 pm
Venue
ACC St. John's
Price
$38 Adults
$32 Seniors/Students
(HST and service charge included)