70th ANNUAL PROVINCIAL DRAMA FESTIVAL
April 21 - 27, 2019
Presented by the Newfoundland & Labrador Drama Society
St. John's Arts & Culture Centre
---
Synopsis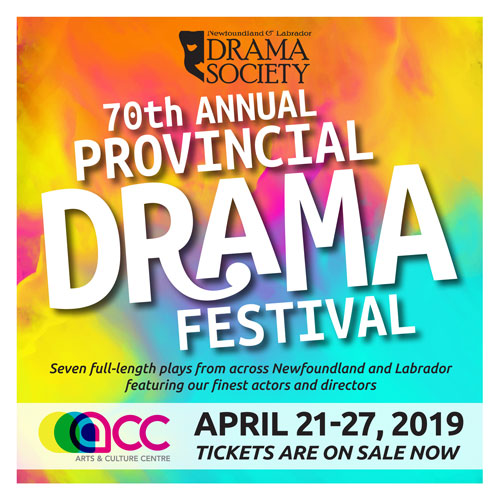 Newfoundland and Labrador is a mecca for artistic talent and cultural excellence. Save the date to see Canada's only provincial community theatre festival hosted in St. John's from April 21 to 27, 2019 at the Arts & Culture Centre.

The Newfoundland and Labrador Drama Society presents the 70th Annual Provincial Drama Festival – a week of plays from classics to contemporary dramas, Pulitzer Prize winners to original productions. This annual showcase (and competition of adjudicated regional theatre) is produced from across our province by its talented and inspiring directors, performers, technicians, and playwrights.

Tickets are available for individual nights but, treat yourself to a special discounted week-long pass! 

For five nights of the festival, there will be a different curtain raiser in the Barbara Barrett Theatre before the main stage performances. SEE THE CURTAIN RAISER SCHEDULE HERE.
For more information on the shows and festival activities, see our Facebook page: 70th Annual Provincial Drama Festival.
---
2019 Drama Festival Schedule
Jack Meets the Cat - School Zone Productions
Sunday, April 21 at 8:00 pm
120 mins including intermission.
Once upon a time, a man and a woman got married and they had three sons: Tom, Bill, and Jack. You've heard about Jack? The fellow who was every inch a sailor? The one who climbed the beanstalk? The one who jumped over the candlestick? Well, this is the other Jack. His brothers were kind of handy – they were actually able to do something, but Jack, well, he was a different story altogether. From the producers of 12 Angry Men and The Twilight Zone and the imagination of Pius Power Sr., and Andy Jones, a fairytale like no other comes to life on stage –the School Zone Production of Jack Meets the Cat , directed by Jamie Skidmore.

Circle Mirror Transformation - Mokami Players
Monday, April 22 at 8:00 pm
120 mins. No intermission.
In the small town of Shirley, Vermont, five actors embark on a life-altering journey of self-discovery set in the confines of a six week, adult acting class. As the weeks progress, the actors pull back layers and reflect on the people that they have become. Annie Barker's "Circle Mirror Transformation" delivers a complex look at the realities of an unfulfilled life.

The Maltese Bodkin - St. John's Players
Tuesday, April 23 at 8:00 pm
140 min with intermission
To celebrate Shakespeare's birthday on April 23, 1564, St. John's Players presents a fantasy romp through his plays.  The Maltese Bodkin is an entertaining casserole.  The recipe - Take Sam Spade from The Maltese Falcon, drop him in a world of Shakespearean characters and stir.  The result - a comedy mystery with a Shakespearean twist. Times were tough for hard-boiled detective Birnam Wood. He never asked to be in London, especially in 1605. When Wood's Partner, Archie, is killed, he takes on the case that his partner worked before his untimely death.  Wood hopes it will lead him to solve the mystery of who killed Archie and why.  He has to find the killer amongst a cast of suspects that includes Viola, Richard III, Falstaff, Iago, Mercutio and a merchant from Venice. The real solution to the mystery, however, seems to be in discovering the secret behind a mysterious dagger known as the Maltese Bodkin. The worlds of detective fiction and Shakespeare collide in this "who hath done it".

The Pillowman - The Off Broadway Players
Wednesday, April 24 at 8:00 pm
Intermission TBD
In an interrogation room in an unnamed totalitarian dictatorship, two detectives are interrogating writer Katurian Katurian. Next door, Katurian's mentally disabled brother Michal waits. The detectives want to know why Katurian's stories feature gruesome plots about child murder and torture, and in particular, why they seem to mirror a string of recent child murders in the area. This brutal dark comedy from Martin McDonagh, the master of the horror-comedy, poses unanswerable questions: Can stories hold the power to cause atrocities? Where is the line between truth and fairy tale? Is a life of horror worth living at all? Drawing on inspiration as diverse as Grimm's Fairy Tales, Kafka, and Antonin Artaud, The Pillowman is a dark, twisty, and utterly unforgettable masterpiece from one of Ireland's most treasured writers.

The Donnellys (A Drama with Music) - The Avion Players
Thursday, April 25 at 8:00 pm
150 min with intermission
One of Canada's most infamous true stories, The Donnellys has grown in its telling with each generation since the events that shook the little village of Lucan, Ontario. Why did the god-fearing residents of a small pioneer town rise up one night to overtake an entire family as they lay sleeping? Why did a veil of silence descend over the town, so that even though forty sets of footprints were found at the scene, nobody was ever convicted of the murders? And why has the code of silence lasted to this day? The play sets out to answer these questions, through a new modern edgy look. Timeworn feuds of Ireland followed them to this farming community, where hate festered until the eve of February 4, 1880. The violence of that act has passed into legend, but legends die hard, and the Donnellys live on in this gripping, dramatic piece of theatre with music.

A Skull in Connemara - Northern Lights Theatre Company
Friday, April 26 at 8:00 pm
85 min with intermission
For one week each autumn, Mick Dowd is hired to disinter the bones in certain sections of his local cemetery to make way for the new arrivals. As the time approaches for him to dig up those of his own late wife, strange rumours regarding his involvement in her sudden death seven years ago gradually begin to resurface.

Marion Bridge by Daniel MacIvor - Northcliffe Drama Club
Saturday, April 27 at 7:00 pm
120 min with intermission
Agnes, a recovering alcoholic, returns to her Sydney, Nova Scotia home when she learns that her ailing mother, also an alcoholic, has been hospitalized. Both her sisters - opinionated Theresa and Louise, who prefers nothing better than to watch television - now live in the home. Against Theresa's better judgment, the sisters decide to bring their cantankerous mother, Rose, back to the house so that the collective three can take care of her in what looks to be her final days. As the sisters try to cope with caretaking their mother, they must also learn to live harmoniously with each other, not an easy task especially considering their differing personalities. While in Sydney, Agnes also feels the need to connect with certain aspects of her past, one that includes a teenager named Joanie.
---
Details
DRAMA FESTIVAL PASS:  $149 Each to attend all 7 nights
Using Your Pass:  To obtain a ticket present your pass at the box office. Pass holders will have a seat held for them for all performances.
TICKETS:  $30 Each | $25 Seniors | $20 Students
DATES: April 21 - 27, 2019
LOCATION: ST. JOHN'S, Arts and Culture Centre (95 Allandale Road)
RECOMMENDED AUDIENCE AGE: PG
BOX SEATS: The St. John's Arts & Culture Centre has box seats. To check on availability and to book these seats call the St. John's box office at 709-729-3900 (they are not available online). 

ONLINE SALES: for all shows are available until 2 hours before show time