REVISOR
A Kidd Pivot Production Created by Crystal Pite and Jonathon Young
Presented by Artistic Fraud, Neighbourhood Dance Works, & the Arts & Culture Centre
February 14, 2020
St. John's Arts & Culture Centre
 ON SALE NOW!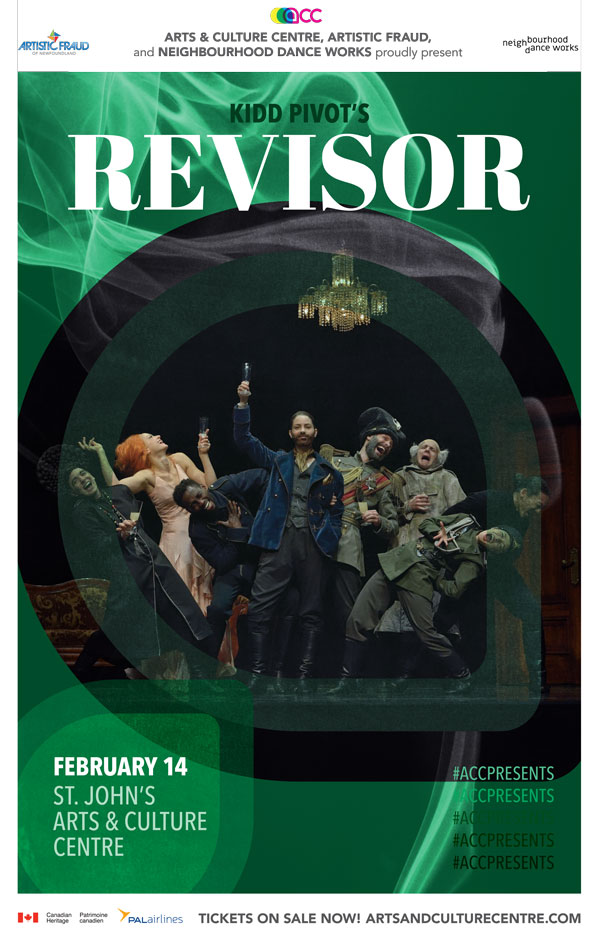 Synopsis
The Arts and Culture Centre, Neighbourhood Dance Works and Artistic Fraud of Newfoundland have come together to bring Kidd Pivot's Revisor to the province!

In Revisor, Jonathan Young and Crystal Pite revise an archetypal comic plot to serve as the basis for choreography in a true hybrid of contemporary theatre and dance. 

In Revisor, eight Kidd Pivot dancers embody the recorded dialogue of some of Canada's finest actors, exploring conflict, comedy, and corruption in the potent relationship between language and the body. From the creators of the internationally acclaimed Betroffenheit (winner of the Olivier Award for Best New Dance Production)

DANCE REVIEWS:  Kidd Pivot's remarkable Revisor more than lives up to expectations
by Janet Smith on February 21st, 2019 at 11:04 AM
https://www.straight.com/arts/1204031/kidd-pivots-remarkable-revisor-more-lives-expectations
 

Co-produced by Sadler's Wells (London, UK), Théâtre de la Ville/La Villette (Paris, France), Banff Centre for Arts and Creativity (Banff, Canada), University of North Carolina at Chapel Hill (North Carolina, US), Canadian Stage (Toronto, Canada), Seattle Theatre Group (Seattle, US), and The Hamber Foundation (British Columbia, Canada).
This is one of the 200 exceptional projects funded through the Canada Council for the Arts' New Chapter Program. With this $35M investment, the Council supports the creation and sharing of the arts in communities across Canada.

Developed with support from the National Arts Centre's National Creation Fund.

Revisor is a co-production of The CanDance Network Creation Fund, Danse Danse, National Arts Centre, DanceHouse and Dance Victoria, and supported by the Canada Council for the Arts.

Kidd Pivot benefits from the support of BNP Paribas Foundation for the development of its projects.

Details
TICKETS: $65 Each | $40 Group of 8 or more  HST & service charge included
SHOWTIME: 8:00 pm
DATES & LOCATION:  February 14, 2020  - ST. JOHN'S, Arts & Culture Centre 
RECOMMENDED AUDIENCE AGE: All Ages
SHOW LENGTH: TBD
INTERMISSION: TBD
BOX SEATS:  The St. John's Arts & Culture Centre has box seats. To check on availability and to book these seats call the box office at 709-729-3900 (they are not available online). 
ONLINE SALES: Online sales for all shows are available until 2 hours before showtime.