Due South Opry
2021 TOUR
October 8 Stephenville
October 9 Corner Brook
October 10 Grand Falls-Windsor
October 16 Gander
October 17 St. John's
*Our website has ONLY pairs available for sale online.
Please call to book groups or single tickets.
---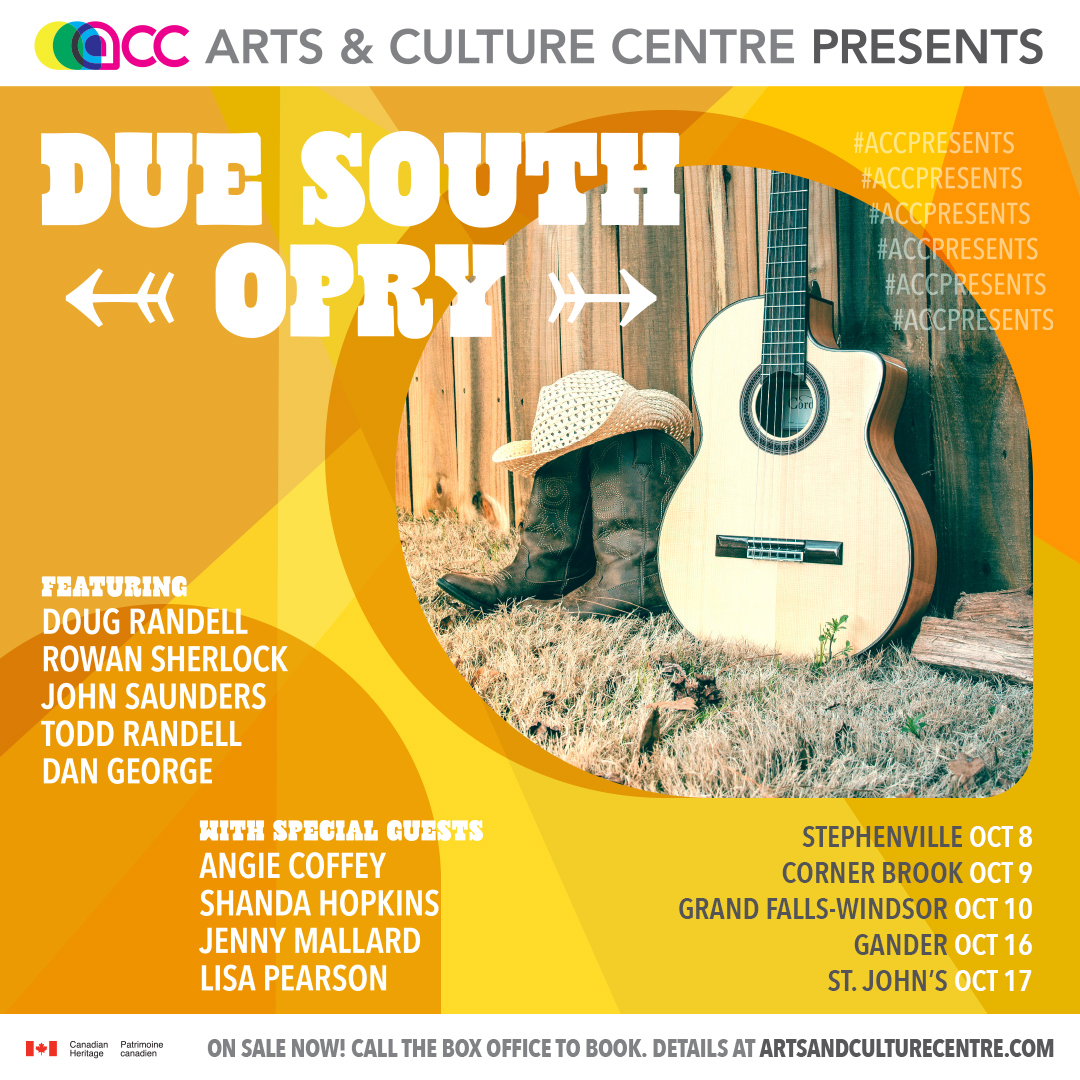 Synopsis
The Due South Opry is a country music show, bringing the classic sounds of Nashville right here at home. Following in the style of The Grand Ol Opry, the show features a roster of today's top local country performers, backed up by a professional five-piece band.

The band features Doug Randell (guitar and pedal steel), Rowan Sherlock (fiddle), John Saunders (guitar and vocals), Todd Randell (bass guitar and vocals), and Dan George (drums).

All five members of the band have been performing, touring, and recording for decades and individual members have shared the stage with artists like Dr. Hook, The Punters, Rod Jackson & The Perfect Strangers, Marty Haggard, David Frizzell, Tommy Cash and The Kentucky Headhunters, to name a few.

Performing alongside the band are singers Angie Coffey, Shanda Hopkins, Jenny Mallard, and Lisa Pearson.
---
Details
TICKETS:  $30 Full Price  HST & Service Charge Included
BOOK WITH YOUR BUBBLE: CALL the box office to book groups. HST & Service Charge Included
DATES/ LOCATION/ BOX OFFICE NUMBERS:
Click a date below to buy tickets to that location. At this time only pairs of tickets are available online. For single or group tickets please call the box office.
October 8, 2021
STEPHENVILLE, Arts & Culture Centre
709-643-4553
svboxoffice@artsandculturecentre.com

October 9, 2021
CORNER BROOK, Arts & Culture Centre
709-637-2580
cbinfo@artsandculturecentre.com 

October 10, 2021
GRAND FALLS-WINDSOR, Gordon Pinsent Centre for the Arts
709-292-4518
gfwboxoffice@artsandculturecentre.com

October 16, 2021
GANDER, Joseph R Smallwood Arts & Culture Centre
709-256-1081
gaboxoffice@artsandculturecentre.com

October 17, 2021
ST. JOHN'S, Arts & Culture Centre 
709-729-3900
sjboxoffice@artsandculturecentre.com
SHOW TIME: 8:00 pm
SHOW LENGTH: TBD
INTERMISSION: None
RECOMMENDED AUDIENCE AGE: All Ages
ONLINE SALES & GROUPS: We have PAIRS of tickets available online and you must book 2 tickets together.  Please contact the box office to book groups or single seats.
---
Theatre Seating
THIS EVENT IS BEING SOLD AT INCREASED CAPACITY with physical distancing in place. If you have questions please contact the box office.
- For Fall 2021, we will have increased seating capacity, but we are continuing physical distacing in the theatres .
- This means two seats directly in front of and behind you will be empty  and also two seats to the left and right of your seats.
- This will ensure physical distancing between bubbles/patrons seated in the theatres.
If you are not feeling well on the night of the event, or feel that you might have been in a compromised situation relating to COVID-19, then you must stay home. In this case, a full refund will be offered to you and members of your party by contacting the box office in advance or within 24 hours of a missed performance if you are unable to attend due to COVID-19.
Click here for more information on attending performances and venue protocols.
---
Buy Tickets