The John Scofield Uberjam Band
Featuring Andy Hess, Avi Bortnick and Tony Mason
July 11 at 8:00 pm
 

The John Scofield Uberjam Band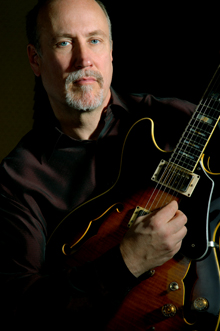 On July 11, the 2013 Wreckhouse International Jazz and Blues Festival is proud to present one of the greatest jazz guitarists of his generation, the living legend John Scofield.  John Scofield's guitar work has influenced jazz since the late 70's and is going strong today. 
Possessor of a very distinctive sound and stylistic diversity, Scofield is a masterful jazz improviser whose music generally falls somewhere between post-bop, funk edged jazz, and R & B.  John is truly a veteran of the jazz world, since starting his international career in 1978 he has recorded on over 30 different albums, collaborated with music legends like Herbie Hancock, Joe Lovano, and Bill Frissell, and toured with the one and only Miles David for 4 years!  When he's not touring the world, Scofield is now and Adjunct Professor of Music at New York University.  Wreckhouse Jazz and Blues is delighted to have a musician of his calibre performing at the festival this year.  It promises to be one of the best concerts in St. John's this summer, so don't miss The John Scofield Überjam Band ft. Andy Hess, Avi Bortnik, and Tony Mason, July 11, 8:00PM at the St. John's Arts and Culture Centre during the
2013 Wreckhouse International Jazz and Blues Festival!
Availability

 
  Excellent
 
  Good
 
  Limited
 
  Sold Out