REVUE 2019
Presented by Rising Tide Theatre
TOURING January 16 - February 22, 2020
Show rescheduled: St. John's on Friday, Jan 17 to Monday, Jan 20.
Show cancelled: St. John's on Saturday, Jan 18. (Update to follow on possible rescheduling)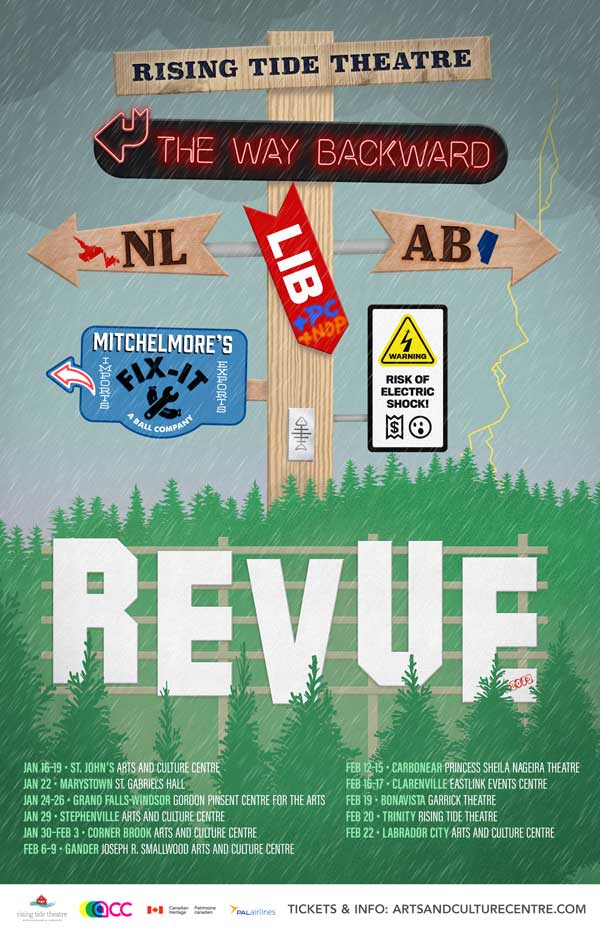 NEW: Saturday, January 18
Due to the state of emergency in place, tonight's (Saturday) performance or Revue will not be going ahead. We must keep the Centre closed.
When the box office is able to re-open, patrons can call the box office to re-book their tickets to any of the remaining shows.
We are working on a possible additional show date for Revue in St. John's as well, and will update on this as soon as possible. Thank you for your patience and please stay safe.
---
FRIDAY REVUE PERFORMANCE RESCHEDULED TO SHOW ADDED FOR MONDAY
Due to Friday's forecasted snowfall and blizzard conditions, the St. John's Arts and Culture Centre is rescheduling the Revue performance on Friday, January 17 to Monday, January 20. This is an added show. 

All Friday night tickets (Jan 17) have been moved to Monday, January 20 at 8:00 pm.

Patrons who have already picked up tickets will have those honored at the door for the new date (including print at home/e-tickets). If ticket holders are unable to make the rescheduled performance, the box office can move tickets to any other date where seats are available.

The box office is standing by to help and can be reached at 709-729-3900. We ask for your patience while we work diligently to get to all your calls.
---
Synopsis
It started in 1984 as a three-night show, a commentary on the events of the previous year and a way to give Newfoundlanders a collective sense of who we are and how our great sense of humor keeps us sane. Now after over 30 seasons, Rising Tide Theatre's Revue continues to fill the province's Arts and Culture Centres and beyond.
There are laughs galore with plenty of wild characters. Don't miss all the fun on this province-wide tour.
For more information visit Rising Tide Theatre at www.risingtidetheatre.com/revue-19.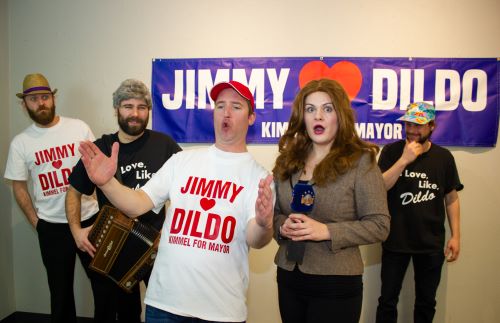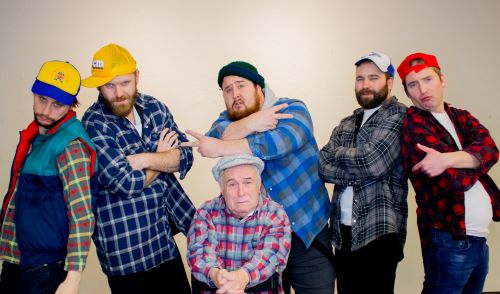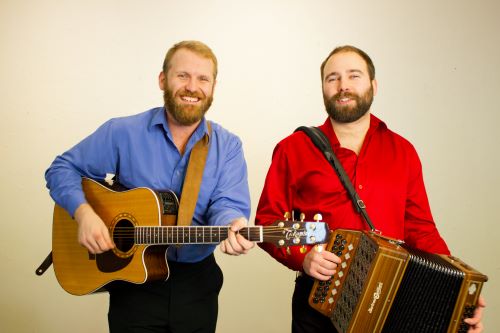 Details
TICKETS:  $32 Each | $30 Students & Seniors (HST & Service Charge Included)
SHOWTIMES: 8:00 pm
DATES & LOCATION:  Click on an ACC to purchase tickets to that venue
January 16-19 - ST. JOHN'S, Arts & Culture Centre 
**St. John's - Jan 20 show added. All tickets for Friday, Jan 17 have been moved to Monday Jan 20. If unable to attend please contact the box office at 729-3900**
January 24-26 - GRAND FALLS-WINDSOR, Gordon Pinsent Centre for the Arts 
January 29 - STEPHENVILLE, Arts & Culture Centre
January 30-February 3 - CORNER BROOK, Arts & Culture Centre 
February 6-9 - GANDER, Joseph R. Smallwood Arts & Culture Centre
February 22 - LABRADOR WEST, Arts & Culture Centre
Also Visiting:
*January 22 - MARYSTOWN, St. Gabriel's Hall
*February 12-15 - CARBONEAR, Princess Sheila Nageira Theatre
*February 16-17 - CLARENVILLE, Eastlink Events Centre
*February 19 - BONAVISTA, The Garrick Theatre
*February 20 - TRINITY, Rising Tide Theatre 
*these are non-ACC locations and the links will direct you away from this website*
RECOMMENDED AUDIENCE AGE: 16 years and up
SHOW LENGTH:  2.5 hours
INTERMISSION: Yes