Atlantic Jazz Nights
Christine Jensen & Rajiv Jayaweera
September 17, 2022
Atlantic Jazz Nights is a new international jazz series presented by the Arts and Culture Centre. The inaugural season includes five concerts featuring invited guest artists from the United States and Canada who will perform with hosts and curators Florian Hoefner and Jim Vivian. 
---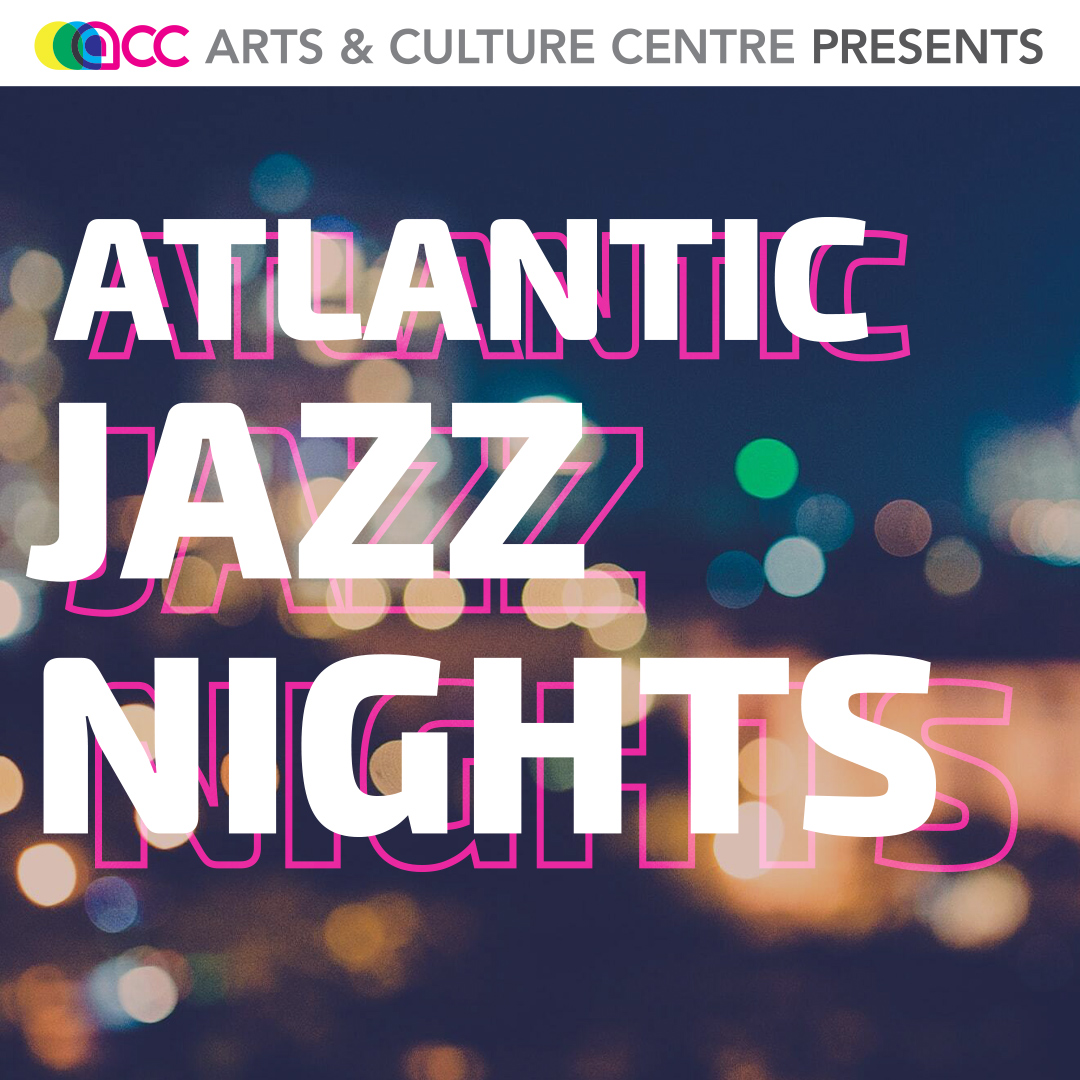 The Atlantic Jazz Nights are a new international jazz series in St. John's. The series is hosted and curated by St. John's-based pianist Florian Hoefner and bassist, Jim Vivian and presented by the Arts and Culture Centre. The inaugural season will include 5 shows between June 2022 and March 2023 that will each feature invited guest artists from the US and Canada who will perform together with Hoefner and Vivian.
Atlantic Jazz Nights Schedule:
June 20 - Atlantic Jazz Nights with Jerry Bergonzi and Allan Mednard
September 17 - Atlantic Jazz Nights with Christine Jensen & Rajiv Jayaweera
October 29 - Atlantic Jazz Nights with John Hollenbeck
January 14 - Atlantic Jazz Nights with Mike Murley & Ian Froman
March 3 - Atlantic Jazz Nights with Laila Biali & Fabio Ragnelli
---
Christine Jensen
Montreal-based saxophonist and composer Christine Jensen has been described as, "an original voice on the international jazz scene... [and] one of Canada's most compelling composers," by Mark Miller of the Globe and Mail. According to Greg Buium of Downbeat Magazine, "Jensen writes in three dimensions, with a quiet kind of authority that makes the many elements cohere. Wayne Shorter, Maria Schneider and Kenny Wheeler come to mind." After a performance at the 2006 Montreal International Jazz Festival, Scott Yanow wrote, "She's rapidly developing into a major force ... as a player and as a writer." Jensen is equally at home performing in small and large ensemble settings.

Her latest opus, Treelines-The Christine Jensen Jazz Orchestra on Justin-Time Records, won her the 2011 Juno Award for Contemporary Jazz Album of the Year, along with Quebec's Opus Award for jazz recording of the year. Downbeat magazine described it as"...a stunning orchestral debut...****1/2 stars". She recently performed at various jazz festivals across Canada as well as at Dizzy's Jazz Club-Lincoln Center in New York with this ensemble. "Jensen's formidable orchestra is the glistening sunlight, the tranquility and force of the ocean, and the majestic trees that her music imagines."-Jazz Times

Rajiv Jayaweera
Rajiv Jayaweera is a Sri Lankan/Australian jazz drummer and composer. He was born in London, grew up in Melbourne, Australia and has been based in New York over ten years. He began playing the drums at the age of 13 and went on to study at the Victorian College of the Arts in Melbourne where he graduated with a Bachelor Music Performance in 2000. The following years saw him play with the finest musicians in Australia including Joe Chindamo, Paul Grabowsky, Sam Anning, James Morrison and Andrea Keller. He was also part of the jazz scene in Scandinavia, and would travel to Denmark each year to tour and perform with artists such as Jakob Dinesen, Jakob Bro and Hugo Rasmussen.

In 2011, Rajiv moved to New York to study for his Masters in Music at The State University of New York, Purchase College. He quickly built a strong reputation for himself in New York performing at the main jazz clubs such Birdland, Blue Note, Smalls, and Dizzy's. He toured extensively around the world with the award-winning vocalist, Cyrille Aimée for five years with performances at Jazz at Lincoln Centre, Doha, The
Cotton Club, Tokyo and The London Jazz Festival.

Over the years, he has been awarded multiple prizes and awards acknowledging his achievements and excellence including grants from The Australia Council for the Arts, The Ian Potter Cultural Trust, The American-Australian Foundation, The Bell Jazz Awards for Best Ensemble of the Year as well as a $25,000 prize from the Origin Foundation. He was also a finalist for the prestigious Freedman Fellowship Jazz Award in 2013 where he performed at the Sydney Opera House.

In 2020, Rajiv released his debut album as a leader made up of his original compositions that drew inspiration from his Sri Lankan heritage. The album entitled Pistils was recorded Upstate New York and featured Chris Cheek, Aaron Parks, Lara Bello, Sam Anning and Hugh Stuckey. In January 2020, Rajiv's quintet were the featured group at the Thailand International Jazz Conference in Bangkok. In addition to his own band, some of Rajiv's current projects and collaborations include Trio Kleine Ahnung (DE/AU/US), The Sam Anning Septet (AU), Theresia Philipp's Aint I a Woman (DE), and The Jon Urrutia Trio (ES).
---
Details
TICKETS: 
$35 All Seats
$150 Series Price (Includes all 5 events in the Atlantic Jazz Series)
( HST & Service Charge Included)
DATES/ LOCATION/ BOX OFFICE NUMBERS:
Click a date below to buy tickets to that location.
September 17, 2022
ST. JOHN'S, Arts & Culture Centre
709-729-3900
sjboxoffice@artsandculturecentre.com
SHOW TIME: 8:00 pm
SHOW LENGTH:  120 minutes
INTERMISSION: Yes
RECOMMENDED AUDIENCE AGE: All Ages
---
Buy Tickets
If you are unable to attend the performance due to illness or COVID-19 regulations, contact the box office within 24 hours for a full refund.