H'Sao
Presented by Arts & Culture Centre
July 7, 2017, at 7:00 pm   *FREE PERFORMANCE*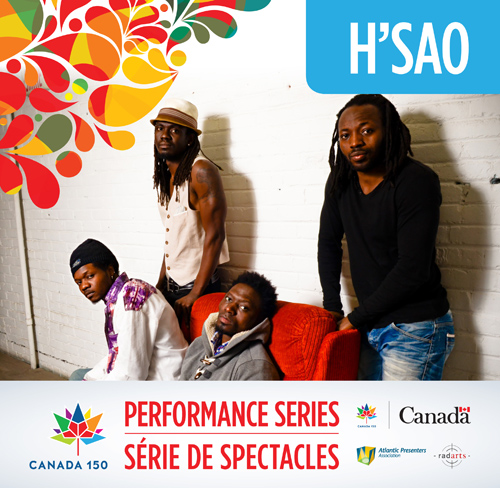 FREE performance by Montreal-based band H'SAO in celebration of Canada's 150th, and a kickoff event to the Tombolo Multicultural Festival.

Montréal-based band from Chad, H'SAO , has been capturing the hearts of small audiences and large crowds alike since 2001. The band has always been passionate about sharing its unique blend of modern sound and traditional African musical influences. H'SAO has travelled the world, delivering electrifying performances, launching three innovative albums and, most of all, developing a musical signature that spans several genres and thus transcends the world music category.
 
In the beginning, voices were the band's only instrument. Brothers, Caleb (guitar), Mossbass (bass), and Izra L (keyboard), along with their childhood friend Dono (drums) added instruments to their rich and inspired compositions. Today, the self-taught musicians continue to weave the impressive a cappella harmonies they are known for, into powerful live performances. These seasoned musicians/singers have stayed true to their roots, drawing from Gospel, Soul, R&B, Reggae, and Chadian music from their home country. The result is as skillful and heartfelt, as it is unique.
Whether their style is labelled Afro-fusion or Afro-jazz, H'SAO is defined by the strength of its voices and vocal harmonies, its rhythms and its authenticity. Onstage, the band sets itself apart through energetic performances, punctuated by catchy choreography and warm interactions with the audience. This distinctive presence was sought by prominent festivals in Canada and abroad. Besides touring Europe, Africa, Asia, Australia, and the Americas, the H'SAO made appearances at several noteworthy events at home playing before the Queen of England on Canada Day (2010), at the Francophonie Games (2001), with the Orchestre symphonique de Montréal, at Québec City's 400th anniversary (2008), and at the Governor General's Performing Arts Awards Gala (2009).

H'SAO will open the 2017 Tombolo Multicultural Festival at the St. John's Arts and Culture Centre on Friday, July 7, 2017.
We are thrilled to offer this performance for FREE. We invite our patrons and supports to come join us and we wind down the final show of our season and look forward to a full roster of events in the Fall to celebrate not only Canada's 150th birthday but also the 50th anniversary of the St. John's Arts and Culture Centre. Tickets can be picked up in advance at the St. John's Arts & Culture Centre box office, or by calling 709-729-3900.

In 2017, Canada celebrates the 150th anniversary of Confederation, a pivotal milestone for our country, which allows us to connect with our past, celebrate who we are today, honour our exceptional achievements and build a legacy for tomorrow. In order to celebrate this milestone, the Atlantic Presenters Association (APA), in partnership with RADARTS, and with support from Canadian Heritage, is presenting the "Canada 150 Performance Series". This series will tour through Atlantic Canada and will feature multi-disciplinary artists from the six Canadian Regions to celebrate Canada and being Canadian. H'Sao is one of seven acts that the Arts and Culture Centre will present as part of this program in 2017-18.

This project is funded [in part] by the Government of Canada.  Ce projet est financé [en partie] par le gouvernement du Canada.
 
Find out more about H'SAO by visiting their official website at  www.hsao.ca, on Facebook, and Twitter (@HSAOmusic).
---