The Phantom of the Opera
Presented by Opera on the Avalon
November 7-9 at 7:30 pm
November 9 at 2:00 pm* -  ASL (American Sign Language) Performance
St. John's, Arts & Culture Centre
---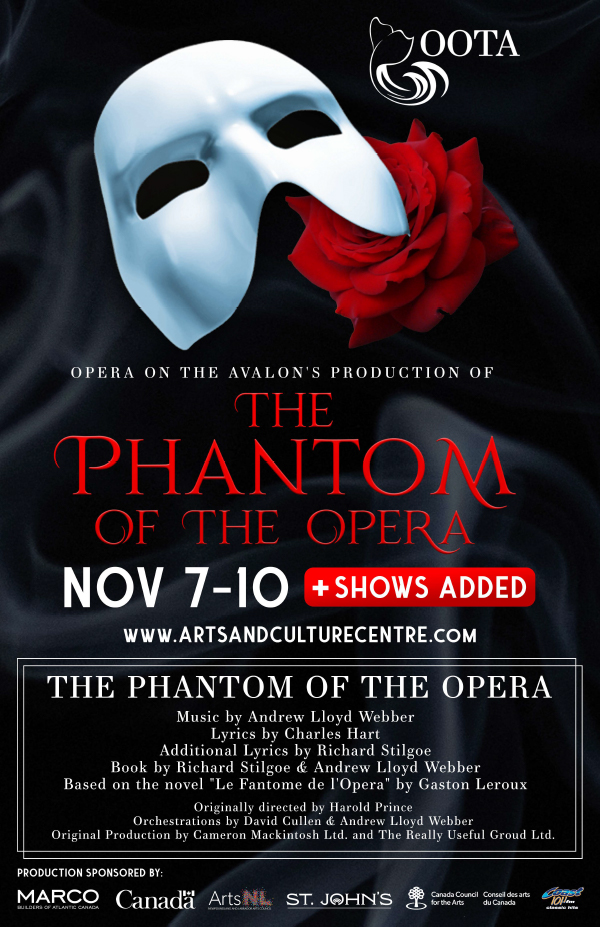 Synopsis
Music by Andrew Lloyd Webber
Lyrics by Charles Hart
Additional Lyrics by Richard Stilgoe
Book by Richard Stilgoe & Andrew Lloyd Webber
Based on the Novel "Le Fantome de l'Opera" by Gaston Leroux

The Phantom of the Opera follows a deformed composer who haunts the grand Paris Opera House. Sheltered from the outside world in an underground cavern, the lonely, romantic man tutors and composes operas for Christine, a gorgeous young soprano star-to-be. As Christine's star rises, and a handsome suitor from her past enters the picture, the Phantom grows mad, terrorizing the opera house owners and company with his murderous ways. Still, Christine finds herself drawn to the mystery man.
 
Opera on the Avalon's production of Phantom of the Opera is coming in November 2019. Directed by Donna Fletcher, and conducted by Jeffrey Huard (Assistant Conductor of the original 1988 Broadway cast, and Musical Director/Conductor of the 1989 Toronto cast of The Phantom of the Opera), and Marie Steffen as choreographer. 
CAST
ROGER HONEYWELL, The Phantom
TERESA TUCCI, Christine
NOELLE SLANEY, Carlotta/Countess
JACQUES ARSENAULT, Ubaldo Piangi
JEFF SULLIVAN, Raoul
PETER HALLEY, Lefevre/Fire Cheif
IAN LOCKE, Passarino/Ensemble
MEGHAN HERDER, Wardrobe Mistress/Madame Giry Cover
KEITH POWER, Monsieur Gilles Andre
JOHN FANNING, Richard Firmin
KELLY-ANN EVANS, Madame Giry
GRACE BUDOLOSKI, Meg Giry
PHILIP MCDERMOTT, Slave Master
AMY WILSON, Madame Firmin
GAVIN SNOW, Jeweller/FOP
ANDREW HEPDITCH, Hairdresser/FOP
ANDREW HART, Innkeeper
CHRIS DUNN, Maestro Reyer

PRODUCTION

DONNA FLETCHER, Director
JEFFREY HUARD, Conductor
KEITH ROBERTS, Costume Designer
MARIE STEFFEN, Choreographer
AMANDA KLEIN, Stage Manager
KATE STENSON, Assistant Stage Manager
ERIKA PENNEY, Assistant Stage Manager
HOLLY MEYER-DYMNY, Set and Projection Designer
MARA BREDOVSKIS, Production Manager
TYLER BURRY, Head of Props

BALLET CHORUS

LISA BOURNE, Ballet Chorus
KATHLEEN MATHER, Ballet Chorus
CARLIE QUIRION, Ballet Chorus
MADDIE ROCHE, Ballet Chorus
ELLA STEEVES, Ballet Chorus
MARY ANTLE, Ballet Chorus
ELLA ANTLE, Ballet Chorus

CHORUS

KATHY SKINNER, Female Chorus-Mezzo
CATHY JACKMAN, Female Chorus-Mezzo
ALLY BOWES, Female Chorus-Mezzo
STELLA HEALD, Female Chorus-Soprano
ANNA JAMES, Meg Cover, Female Chorus-Soprano
BRIANNA HARTE, Female Chorus-Soprano/Mezzo
CAROLINE MARTIN-ROWE, Female Chorus-Mezzo
REBEKAH LEE, Female Chorus-Soprano
ABRA WHITNEY, Female Chorus-Mezzo
GRACE KEEPING, Female Chorus-Mezzo
KATIE BILLARD, Female Chorus-Soprano
WENDY WOODLAND, Female Chorus-Soprano
SARAH MCCARTHY, Female Chorus-Mezzo
OLIVIA SNOW, Female Chorus-Soprano
HAYLEY COLLINS, Female Chorus-Mezzo
SOPHIE HALE, Meg Cover (Dance), Female Chorus-Soprano
CHRIS HENDRY, Male Chorus-Tenor
CAMERON BENNETT, Male Chorus-Tenor
Originally directed by Harold Prince
Orchestrations by David Cullen & Andrew Lloyd Webber
Original Production by Cameron Mackintosh Ltd. and The Really Useful Group Ltd.
---
Details
TICKETS:  $100 Each (HST & service charge included)
DATES & SHOWTIME: 
November 7-9 at 7:30 pm
November 9 at 2:00 pm (ASL Performance) 
*AMERICAN SIGN LANGUAGE (ASL) PERFORMANCE: This newly added matinee show (November 9th at 2:00 pm) will be an American Sign Language (ASL) Performance. ASL interpreters will be on stage and lit accordingly throughout the performance. OOTA strives to create a safe place for all to create, perform and enjoy.
LOCATION: ST. JOHN'S, Arts & Culture Centre (95 Allandale Road)
RECOMMENDED AUDIENCE AGE: All Ages
SHOW LENGTH: 2 hours 30 mins (with intermission)
INTERMISSION (20 mins): Yes
BOX SEATS: The St. John's Arts & Culture Centre has box seats. To check on availability and to book these seats call the box office at 709-729-3900 (they are not available online). 
ONLINE SALES: Online sales for all shows are available until 2 hours before show time.