Buddy Wasisname and the Other Fellers
"The Best Of" Tour
Presented by the Arts & Culture Centre
TOURING September - November 2017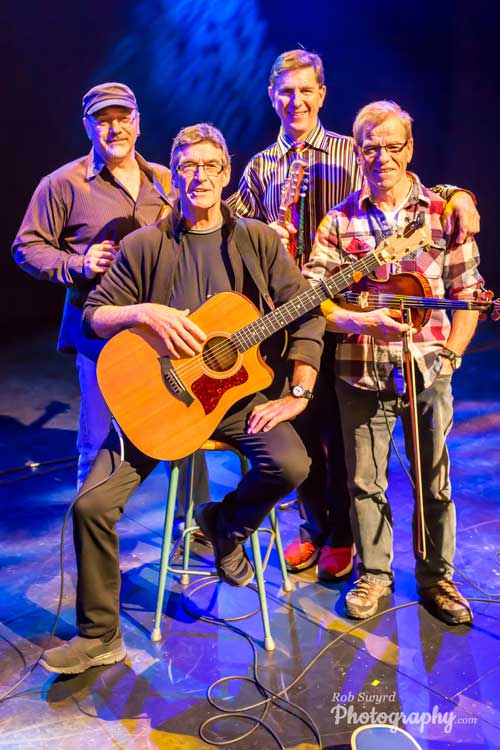 Synopsis
So this is it. You've been coming to the shows now for 35 years. I've got a bad shoulder from wearing instrument straps, Wayne has nearly killed himself in the woods twice… has a warning from his doctor! Ray was found on Western Brook pond floating in his boat aimlessly not realizing we had to be on tour the next day. All of this is to say we're relaxing a bit.
After writing 25 shows over 30+ years, creating a catalogue of more than 400 individual pieces of music and humour, we don't create like we used to. The kids are grown up and independent and now the grandchildren have arrived so we're less vital to the progress of humanity.
So, in putting this show together there was only one thing to do… draw on our laurels, rip the past for decent material and see if we could recreate a show that looks like us in the 90s, back when men wore jump suits and head bands, listened to Eddie Van Halen for meaningful lyrics, Madonna made her debut, Michael Jackson did Thriller and people watched MTV.
Sure, we'll have a few new pieces, who doesn't. We're turning the cart around though; in our last tour we got into heavy stuff, Blues, Rock; two tours ago it was Hip-Hop. If that was progress we're afraid of our future, so we gotta get back to our roots. Pure zaniness, frivolous novelty, simple folk songs, lovely ballads and traditional Newfoundland music. See you at "The Theatre".
Follow them on Facebook: www.facebook.com/groups/buddywasisname/
Visit their website: http://buddywasisname.com/
Tweet Buddy! @buddy_wasisname 
Sponsored by: 

---
---
Details
TICKETS: $35 Each // $33 Senior (60+) // $31 Students // $21 Children 12 and under
SHOWTIME: 8:00 pm
DATES & LOCATION: 
September 14 & 15 - LABRADOR WEST, Arts & Culture Centre
September 25 - October 1 - GANDER, Joseph R Smallwood Arts & Culture Centre
October 3-8 - GRAND FALLS-WINDSOR, Gordon Pinsent Centre for the Arts
October 12-15 & 17-19 - CORNER BROOK, Arts & Culture Centre
October 20 & 21 - STEPHENVILLE, Arts & Culture Centre
November 1-4 & 8-11 - ST. JOHN'S, Arts & Culture Centre
RECOMMENDED AUDIENCE AGE: TBD
SHOW LENGTH: TBD
INTERMISSION: Yes
BOX SEATS: The St. John's Arts & Culture Centre has box seats. To check on availability and to book these seats call the box office at 709-729-3900 (they are not available online).
Online sales for all shows are available until 2 hours before show time.