The Search for the North Pole
Sorensen School of Dance
December 20, 2016 at 7:30 pm

The Sorensen School of Dance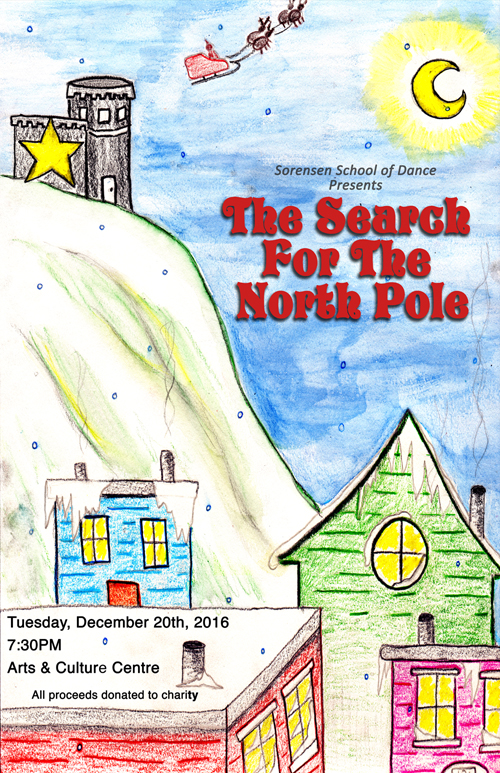 On Tuesday, December 20 the Sorensen School of Dance will continue its tradition of presenting an annual Christmas show.
The Search For The North Pole is an original story written by the creative team of Sorensen School of Dance and features the schools ballet, tap, and modern examination students as well as their performing group dancers.
The show is performed in honor of former student Bethany Danielle Pike and all proceeds are donated to charity. Over the past six years, the studio has donated over $17,000.
Global warming is affecting the North Pole and there's no SNOW! Santa is very concerned about Christmas Eve so the elves set out to find a temporary location for Santa's workshop. Where will they travel? Will anywhere have snow? Will they find a cold, snowy location for Santa's workshop?
Join us for this very magical, family friendly, 90 minute show. Featuring choreography from our entire creative team, you'll travel to some exotic lands and encounter Hersey Kisses, Monster High Dolls, Elves on the shelf, reindeer, clowns and so much more! There's even a traditional Newfoundland Kitchen Party!
This beautiful story is filled with stunning dancing and is sure to put a smile on your face and an extra spring in your step. Join us on Tuesday, December 20th.
Availability

 
  Excellent
 
  Good
 
  Limited
 
  Sold Out
QUICK INFO
Performance
Sorensen School of Dance
The Search for the North Pole
Dates
December 20 at 7:30 pm
Venue
ACC St. John's
Price Range
$27 All Seats
(Ticket Price Includes Service Charge)