Ian Foster
Listening Rooms
On Tour

Ian Foster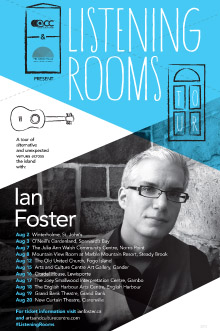 Listening Rooms with Ian Foster is a run of very special shows across the island in August called "House Concerts," meaning a concert in a home or unexpected venue, with a ticket price, and two sets of music with an intermission. 
The Listening Rooms Tour will feature unique locations, from Winterholme Heritage Inn in St. John's, to a Garden Centre in Spaniard's Bay, and the old United Church on Fogo Island. Even in a living room with a balcony in Lewisporte – the house was actually converted from an old Salvation Army Citadel!
House Concert style performances allow up-close and personal interaction with the artist giving people a chance to experience live music in a friendly and interesting environment. Join Ian as he takes the idea of the "house concert," (or 'unexpected venue') on the road around Newfoundland to demonstrate the value of music in alternative venues for both the performer and the audience.  
For more info visit: www.ianfoster.ca. 
TOUR DATES & TICKET INFO:  
Tickets are $15 each for all venues. Please check the list below for each location's box office details.
Aug 2: Winterholme, St. John's
Address: 79 Rennie's Mill Road
Tickets: Contact Lisa at 709-687-7578, lisa@winterholme.com 
Aug 3: O'Neill's Gardenland, Spaniard's Bay
Address: 236 Conception Bay Highway, Spaniard's Bay, NL A0A 3X0
Tickets: Call 709-786-9533 ext. 200 or available at the door
Aug 7: The Julia Ann Walsh Community Centre, Norris Point
Address: Formerly the Bonne Bay Cottage Hospital
Tickets: Can be purchased at the door
Aug 8: Mountain View Room at Marble Mountain Resort, Steady Brook
Tickets: Call 709-637-7601 Monday – Friday, or available at the door
Aug 12: The Old United Church, Fogo Island
Tickets: Contact Sandy Crawford at 709-266-1320, recreation@townoffogoisland.ca  
Aug 15: Arts and Culture Centre Art Gallery, Gander
Address: 50 Airport Blvd., Gander
Tickets: Available online or call the Box Office at 709-256-1081
Aug 16: Citadel House, Lewisporte
Address: 104 Main Street, Lewisporte
Tickets:  Contact Dean at 709-535-0884, dean@deanstairs.com  
Aug 17: The Smallwood Interpretation Centre, Gambo
Address:  13 Station Road, Gambo
Tickets: Call Katty Gallant at 709-674-6873 (cell), 709-674-0226 (home)
Aug 18: The English Harbour Arts Centre, English Harbour
Tickets: Call the English Harbour Arts Centre at 709-464-2424 or toll free at 1-866-456-2424
Aug 19: Grand Bank Theatre, Grand Bank
Address: 16 Water Street, Grand Bank
Tickets: Call 709-832-2282
Aug 20: New Curtain Theatre/The Loft Theatre, Clarenville
Address: 102 White Hills Road, Clarenville
Tickets: Contact Geoff at newcurtaintheatre@gmail.com  or 709-466-7490
IAN FOSTER is a songwriter from St. John's, Newfoundland. His music mixes classic elements of folk music with newer approaches to the genre. Ian's "stories and songs" performance style connects the music and the musician with audiences around Canada and abroad, including the U.S., Italy and The Netherlands. He is an award winning and mutli-nominated songwriter and writer, with accolades from MusicNL, the East Coast Music Awards, The International Songwriting Competition, and the Newfoundland and Labrador Arts and Letters Awards. Ian has recently performed at festivals including The Newfoundland and Labrador Folk Festival, North by Northeast and The Western Maine Storytellers Festival.  Find out more at www.ianfoster.ca