Here and Now: A One Man Comedy by Steve Coombs
Presented by the Arts & Culture Centres
Oct 25 Lab West | Oct 27 Happy Valley-Goose Bay
Nov 2 Gander | Nov 3 Grand Falls-Windsor
Nov 12 - 13 St. John's (LSPU Hall)
Nov 16 Stephenville | Nov 18 Corner 
Brook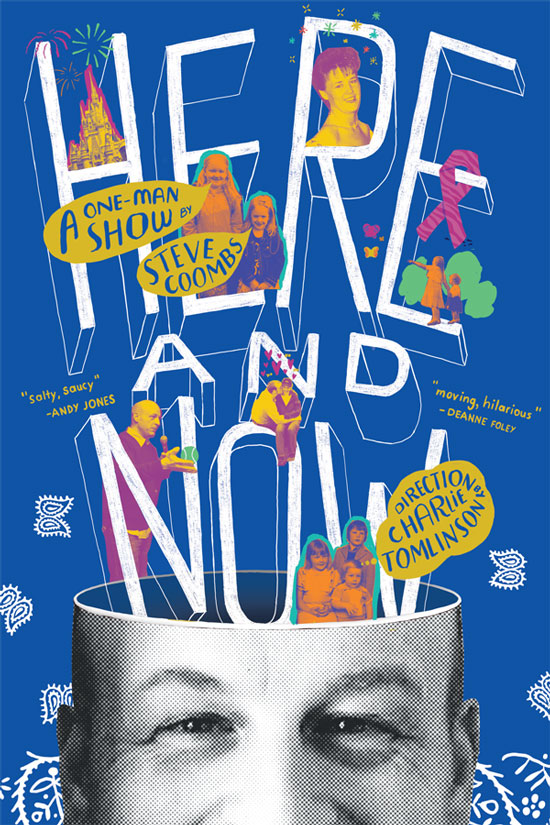 Synopsis
Here and Now captivates from the first laugh through to the end. Steve Coombs, under the direction of Charlie Tomlinson, bridges the worlds of stand-up comedy and the theatre as he mines personal family experiences to engage his audience in his new one-man show. Using his trademark humor, he delivers his take on stigmas and social misconceptions associated with facing a crossroads in life and the reality of having to say goodbye to the past... Gripping. Heartfelt. Funny as hell.

"An entertaining and important piece of theatre ... a very funny, salty, saucy, provocative, foolish, serious, optimistic, sad, scary, and brave human tale!" —Andy Jones

Steve is working closely with health care organizations to develop workshops for these communities, in addition to the performances.

We gratefully acknowledge the in-kind tour support from Eastern Health and Young Adult Cancer Canada.
Labrador shows are presented in partnership with the Lawrence O'Brien Centre and Labrador Grenfell Health.


Details
TICKETS:  $30 Each HST & service charge included
SHOWTIME: 8:00 pm
DATES & LOCATION: Click a date to buy tickets to that centre.
October 25 - LABRADOR WEST, Arts & Culture Centre
**October 27 - HAPPY VALLEY-GOOSE BAY, Lawrence O'Brien Arts Centre
November 2 - GANDER, Joseph R Smallwood Arts & Culture Centre
November 3 - GRAND FALLS-WINDSOR, Gordon Pinsent Centre for the Arts
**November 12-13 - ST. JOHN'S, LSPU Hall (3 Victoria Street)
November 16 - STEPHENVILLE, Arts & Culture Centre
November 18 - CORNER BROOK, Arts & Culture Centre
**clicking links to other venues will redirect you to their website to purchase tickets.
RECOMMENDED AUDIENCE AGE: 12+
SHOW LENGTH: 120 mins (including intermission)
INTERMISSION: Yes
ONLINE SALES: Online sales for all shows are available until 2 hours before showtime.