CANCELLED -  Due to the ongoing COVID-19 situation, this show/tour is cancelled. The box office will be in touch with patrons to process refunds. The box office is closed to the public so we ask for your patience while we work diligently to contact everyone
.
Click for more info.
Rise Up! Songs, Stories and Soul with Heather Bambrick, Andrea Koziol and Bill Brennan
Presented by the Arts & Culture Centres
March 29  St. John's - LSPU Hall | April 3 Gander
April 4 Corner Brook | April 5 Stephenville
April 7 Grand Falls-Windsor | April 9 Labrador West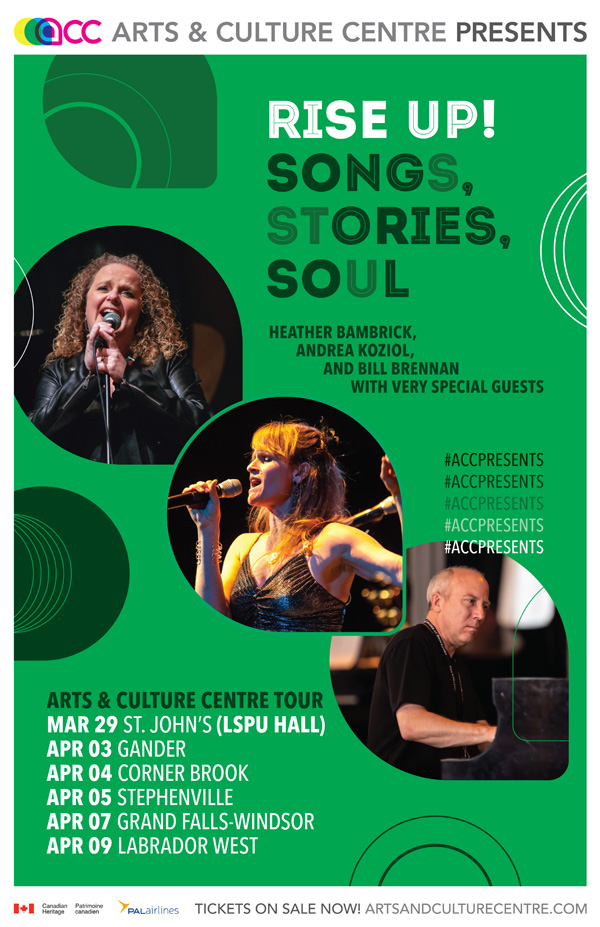 Synopsis
The feel good concert tour from heavy-weight pianist Bill Brennan, internationally acclaimed jazz vocalist Heather Bambrick, and torch folk singer-songwriter Andrea Koziol. Prepare to be lifted. These three masterful Canadian musicians have individually travelled the world, honed their craft, and certainly put in their 10,000 hours… but they still know how to have a great time, and man, oh man, do they sound good doing it!
In this tour they will combine forces to perform some of the most soulful songs of the last 100 years, sprinkled with stunning original tunes, and a few of the best tales from the road. Voices raised in song, a few laughs between friends and the tastiest playing around. File this musical gathering under 'irrepressibly joyful'.
Special Guests
We are thrilled to announce the very special guests that will be joining Bill, Heather, Andrea and band on stage! Come and support these wonderful artists from your community as they hit the stage for this fabulous night of music.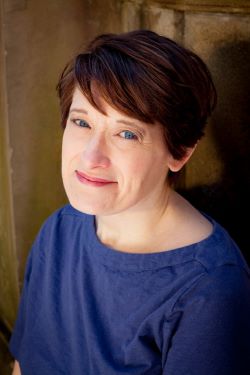 Petrina Bromley (St. John's performance)
Broadway: Come From Away (original Bonnie and others); Stratford Festival: As You Like It, The Hypochondriac; Royal Alexandra/La Jolla Playhouse/Seattle Rep: Come From Away; National Arts Centre: Enron, The Sound of Music, Tartuffe, Metamorphoses; Artistic Fraud of Newfoundland: Oil and Water; AfterImage; Fear of Flight. Twitter: @petieb. Ms. Bromley proudly hails from Newfoundland and Labrador.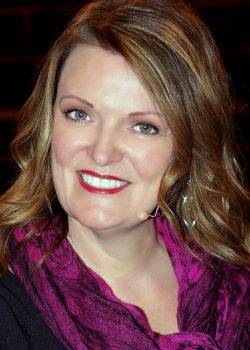 Kim Wiseman (Gander performance)
Kim Wiseman was born and raised in Gander. After completing her Bachelor of Music at MUN and Master of Music in University of Ottawa Kim returned home to Gander to start her own voice studio. She has ventured outside of Gander to perform with various groups and adjudicate in Newfoundland as well as Labrador, but she always returns home to share her talents and the joy of music.This is Kim's 26th year doing just that. She has been adjudicator, clinician, director of summer dinner theater and of course performer. These days she runs her performing arts school which includes her adult choir - The Chorus and spends her summers performing in the show Here To Stay.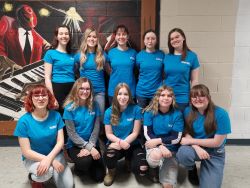 EVH Girls Vocal Ensemble (Grand Falls-Windsor performance)
EVH Girls Vocal Ensemble, under the direction of Ms. Jennifer Clarke, is a newly formed and proud choral group from within Exploits Valley High's Music Program.  This dedicated group of Grade 10-12 girls formed after Christmas 2019 and meet weekly. This ensemble features girls with prior private vocal training and performance experience through school concerts, music festivals, and dinner theatres. The group look forward to their first performance at the upcoming International Women's Dinner in Grand Falls-Windsor. Members are Heidi George, Maggie Byrne, Emily Hewlett, Jessica Hulan, Paige Snelgrove, Melissa Dalley, Hilarie Hynes and Claire Prince, Emily Dunphy, Genna Hedges, Heidi Peyton, Kate Sheppard, Shannon Ivey, Taylor Thompson, Claire Dwyer, Nora Loveless and Chelsea Roberts.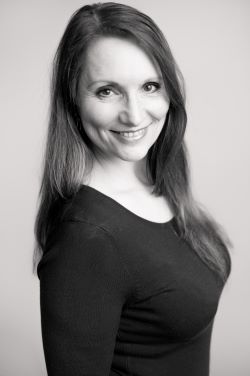 Wendy Woodland (Corner Brook performance)
Wendy Woodland has been a part of the music scene in western Newfoundland for 30 years. She has performed at all major music and theatrical festivals; Gros Morne Summer Music, Stephenville Festival, Gros Morne Theatre Festival, Trails Tales and Tunes, Wintertide Chamber Music Festival, Stage West Theatre Festival.  As a crossover singer her work is varied; classical, theatrical, gospel, pop and folk.  She is often a featured soprano soloist, actor, producer, director, emcee, event coordinator, or conductor and is part of the artistic staff of both the Atlantic Boychoir, and Atlantic Girls Choir. She has a long history of television work and has been featured in productions by CBC, Vision and notably ROGERS tv, where she completed 17 successful seasons as host/producer of the talk and entertainment show, Corner Brook Café.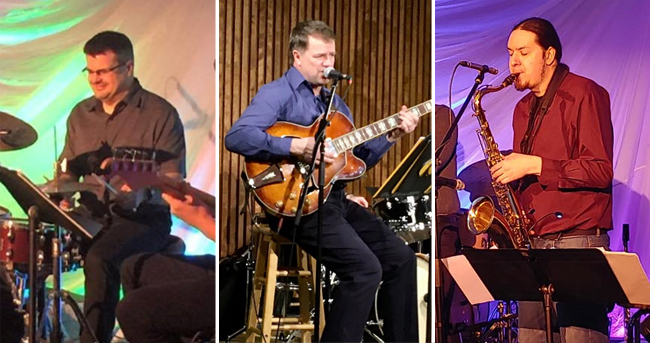 Paul Harris, Nelson White and Kevin Carey (Stephenville performance)
Paul Harris is originally from Labrador City but moved to the west coast of Newfoundland in 2006 to teach band and music at Stephenville Middle School. A graduate of St. F.X.'s jazz degree program, he remains active in the music scenes in Stephenville and Corner Brook, playing drums in various jazz and pop-rock bands as well Gros Morne Summer Music shows. 
Born and raised in Stephenville, NL, guitarist Nelson White is a retired music teacher who now teaches privately and performs with a variety of groups in different genres. He has also been the guitarist for the Stephenville Theater Festival for the last 2 years. 
Kevin Carey grew up in a musical family in the Bay St. George area. He began playing saxophone and guitar at the age of 12, and has been playing in various bands in a variety of genres since the '90s. He currently resides in Stephenville and, as of 2013, has been working at the Stephenville Arts and Culture Centre as a theatre technician.
Details
TICKETS:  $40 Adults | $35 Students & Seniors HST & service charge included
SHOWTIME: 8:00 pm
DATES & LOCATION: Click a date to buy tickets to that centre.
March 29 - ST. JOHN'S, LSPU Hall
April 3 - GANDER, Joseph R Smallwood Arts & Culture Centre
April 4 - CORNER BROOK, Arts & Culture Centre
April 5 - STEPHENVILLE, Arts & Culture Centre
April 7 - GRAND FALLS-WINDSOR, Gordon Pinsent Centre for the Arts
April 9 - LABRADOR WEST, Arts & Culture Centre
RECOMMENDED AUDIENCE AGE: All Ages
SHOW LENGTH: 2 hours
INTERMISSION: Yes
ONLINE SALES: Online sales for all shows are available until 2 hours before showtime.
BOX SEATS: The St. John's Arts & Culture Centre has box seats. To check on availability and to book these seats call the box office at 709-729-3900 (they are not available online).