An Online Performance
SHERMAN DOWNEY
Perfoming from his latest album: "New Beautiful"
Presented by the Arts & Culture Centres
July 20, 2020 at 7:00 pm
---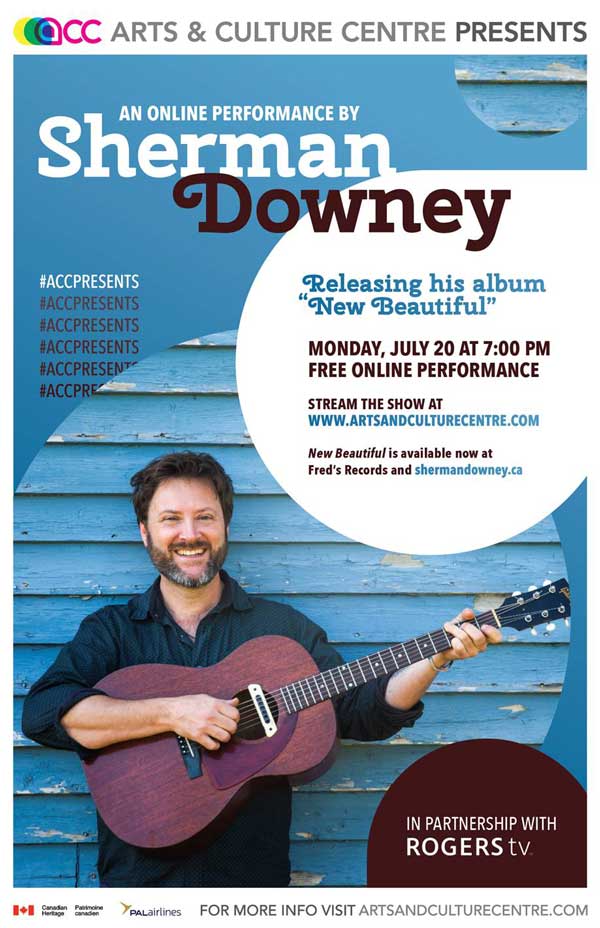 Synopsis
Sherman Downey releases his latest album, New Beautiful
An #ACCPresents Online Performance

This is a brand new initiative for the Arts and Culture Centre in Corner Brook and we are pleased to partner with Rogers TV to offer you this intimate ONLINE performance featuring Sherman Downey and his band, performing songs from his latest album.

To receive the link to tune in from your home, click 'buy ticket' below. The tickets for this event are complimentary as a special promotion as we delved into this new type of presentation. We hope that you enjoy!

Sherman Downey's latest collection of songs, entitled 'New Beautiful', offers a glimpse at what it's like to wander from home and long for return. Fans of his first two albums will be happy to hear familiar character-driven songs that embrace the folk and country roots he cut his teeth on, but will no doubt notice a new musical exploration. Downey delves into straight-up keys-pop before switching into gritty up-close-and-personal meanderings on parlour guitar and piano with lush strings and horns sweeping in to carry the listener through the album. When he sings of letting loose in the local dance hall, people-watching from the front porch, or playing with love in out-of-the-way gas stations, Sherman speaks to those of us who yearn for some sort of change in their day to day.

'New Beautiful' is available now at Fred's Records in St. John's and online at www.shermandowney.ca. Join us on July 20 as Sherman takes us on a musical tour of his new album. 
---
Details
TICKETS: FREE!
LOCATION: ONLINE
DATES & TIME: July 20, 2020 at 7:00 pm
RECOMMENDED AUDIENCE AGE: All Ages
SHOW LENGTH: 60 mins
ONLINE PERFORMANCE INFO: You are purchasing a link to access this #ACCPresents ONLINE performance at the date and time listed. This is a streamed performance so be sure to tune in a little bit before the show starts. The link will be found in your invoice once the transaction is completed. Your invoice will also be emailed to you.