Buddy Wasisname and the Other Fellers
Presented by the Arts & Culture Centres
October 2-3 Stephenville
October 4-6 Corner Brook 
October 18-19

& 28-29

 St. John's

DATES ADDED!


October

22

-24 Grand Falls-Windsor 

DATES ADDED!


October 25-27 Gander
TICKETS ON SALE NOW!
---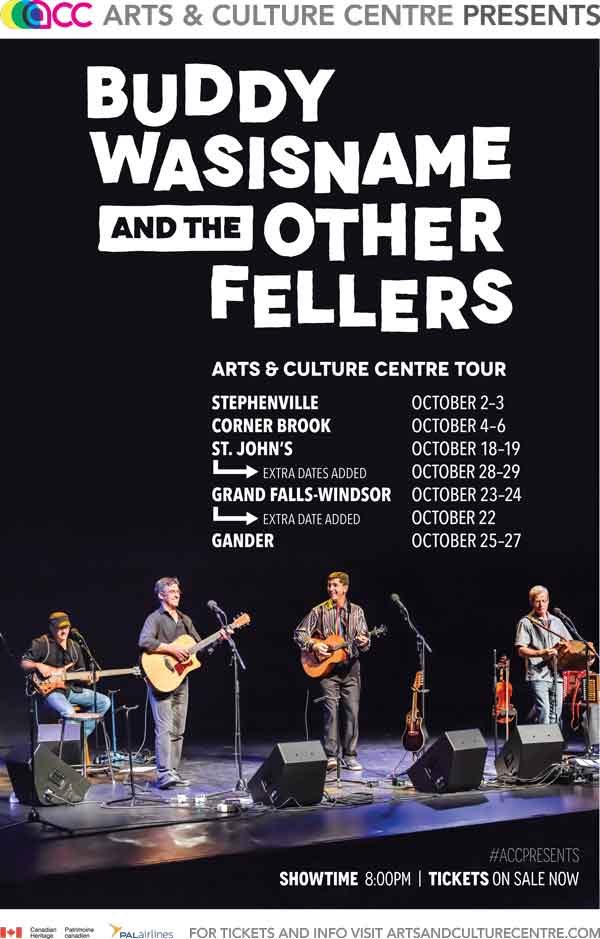 Synopsis
What do you get when you have two Other Fellers, one Buddy, and their buddy Byron, sitting on the flats of their collective arses for a year doing little but contemplating the depth of the snow in the yard, or the speed of the wind gusts fretting the trees outside the front window, aiding the progress of infinity by feeding birds and stacking firewood? Buddy Wasisname and the Other Fellers – on tour in 2019; that's what. Unlike all their shows through the years this show has no particular title, no theme, no tour name but is the result of the boys finding that empty spot in their soul and that unfulfilled need to reconnect with audiences. Yes, dear patron, this show is unapologetically a sort of comeback tour.

Sifting through the vast canon of all they created in the Last Laff Tour, the Wring 'Er Out Tour, and the Best Of Tour, they mined past material with new takes on old stuff and it held them in good stead. Now, these forgotten soldiers find themselves in the presence of the used weapons from wars they waged: the instruments, the cases, the props, and setlists, reflecting, listening to the whispers bending the ears of fans and wonder if there's any fuel left in the tank. There seems little else to do but revisit old glories, but don't write them off just yet. This show might surprise you. The boys are nothing if not inventive and really, as a band, they have been steadily improving for 36 years. They are better now perhaps than they have ever been.

Sit back and have a few hours with these veterans of the road, marshals of the theatre, these monsters of the muse. There won't ever be another group like them.
NEW - EXTRA DATES ADDED Grand Falls-Windsor: OCTOBER 22.   TICKETS ON SALE 12:00 pm Friday, Sept 20!
---
Details
TICKETS:  $40 each | $30 each for groups of 10 or more (for group rates call the box office)  HST & service charge included
DATES & LOCATION: CLICK A DATE TO BUY TICKETS FOR THAT LOCATION
October 2 & 3 - STEPHENVILLE, Arts & Culture Centre
October 4 - 6 - CORNER BROOK, Arts & Culture Centre
October 18-19 & 28-29 - ST. JOHN'S, Arts & Culture Centre NEW DATES ADDED!
October 22 & 24 - GRAND FALLS-WINDSOR, Gordon Pinsent Centre for the Arts DATES ADDED!
October 25 - 27 - GANDER, Joseph R Smallwood Arts & Culture Centre
SHOWTIME: 8:00 pm
RECOMMENDED AUDIENCE AGE: All Ages
SHOW LENGTH: TBD
INTERMISSION: Yes
BOX SEATS: The St. John's Arts & Culture Centre has box seats. To check on availability and to book these seats call the box office at 709-729-3900 (not available online).
ONLINE SALES: Online sales for all shows are available until 2 hours before show time.