Gander Musical Theatre Symposium
September 12-15, 2019
Joseph R. Smallwood Arts & Culture Centre, Gander
Presented in partnership with the Arts and Culture Centres of Newfoundland and Labrador, The Town of Gander, Sheridan College's Music Theatre Program, Grenfell Campus of Memorial University, and Beyond the Overpass Theatre Company
---
About the Symposium
The Town of Gander is the subject of the internationally renowned musical Come From Away. This 4-day symposium acknowledges the efforts of the creative team in bringing the story of this small town to the world's largest stages through this legacy event. 

The Gander Musical Theatre Symposium will focus on the creation of new work in musical theatre, along with the development of design and technical theatre skills. Participants in the symposium workshops can be working at any stage in their career or level of practice. Under the instruction of top industry professionals, the symposium will : 
~ Offer daily workshops in musical theatre creation, production, and design elements; 
~ Host a youth series that focusses on core concepts of musical theatre and storytelling; 
~ Provide access to both participants and members of the public to special showcase and performance events in the evenings; 
~ Provide opportunities, such as a guided tour of Gander, for participants to experience the community and landmarks in Come From Away in fun and meaningful ways; 
~ A strategic planning session on the final day to debrief and plan for future symposiums that are both responsive and visionary.
The symposium will be a singular event in the province of Newfoundland and Labrador and offers participants an opportunity to further their artistic practice through inclusive and dynamic sessions.
---
Application Form
For details about applying to participate in both the Professional and Youth Series at the Symposium, the application form is now available.
CLICK THE ICON BELOW TO DOWNLOAD APPLICATION FORM:

---
Schedule and Sessions
Thursday, September 12
8:00 - 9:30 pm
Opening Night Concert with Shanneyganock
Limited tickets for the general public will be available. Scroll to the bottom of the page for tickets or CLICK HERE.
 
Friday, September 13
9:30 - 11:30 am
Designing Come From Away: From Gander to Down Under
Presenter: Howell Binkley
The presentation will be an in-depth look at the lighting design of Come From Away.  We will delve into the creative process behind designing the lighting for Come from Away originally and how we developed the show from La Jolla to Broadway and beyond, with five companies currently playing worldwide.

Songwriting
Presenter: Leslie Arden
Ever wanted to write a musical? In Leslie Arden's masterclass, participants will learn the craft of musical theatre songwriting in an intimate and nurturing environment. Topics explored will include rhyme, scansion, prosody, and song form.

Razzle Dazzle, Legal Aspects of Theatre
Presenter: Michael Rubinoff
As lawyer Billy Flynn sings in the musical Chicago, "Give'em the old razzle-dazzle." This session will explore the legal aspects behind the razzle-dazzle, specifically pertaining to new works. Participants will be introduced to ways to acquire rights, agreements in the not-for-profit and commercial world and international licensing.

Storytelling Through Improvisation (Youth Series)
Presenter: Ashley Botting
Many minds are always better than one, so in this workshop we'll learn to tell stories as an ensemble, using improvisation. We will favour discovery over planning, play over work, and joy over all else.
 
1:30 – 3:30 pm
Theatrical Sound Design and Mixing
Presenter: Tony Meola
This program provides participants with insight into the world of theatrical sound design and how to approach mixing a musical to achieve the best results. Elements such as lyrical intelligibility and dialogue, as well as mixing levels and transparency of sound reinforcement, are crucial to theatrical productions. "Storytelling is my main job," says legendary theatrical sound designer Tony Meola. In this workshop, Tony, whose credits include such renowned productions as Wicked, The Lion King, The Sound of Music, Kiss Me Kate, The King and I, Smokey Joe's Café, and innumerable others, will discuss his approach to designing and mixing theatrical productions. The workshop will include hands-on mixing exercises and an in-depth examination of Tony's methods and techniques for theatrical sound.

Costume Design
Presenter: Charles Schoonmaker
Charles Schoonmaker has designed costumes for theatre, opera, dance, and television. He will work with as a group on design ideas for a theoretical project. We will explore some the ways theatrical designers create a story about a character, set a work in a place and time, and develop a feeling or mood in the abstract. Please bring laptops or pads to in order research ideas.

Producing New Musicals – Risky, Rewarding and Remarkable
Presenter: Sue Frost
Producing New, Original Musicals.  It's a risky, labor-intensive and multi-year process, and there is no guidebook, no formula.  Sue Frost, founding partner of Junkyard Dog Productions (COME FROM AWAY) will offer a personal and detailed look into the idiosyncratic world of developing and producing original musical theatre for the stage.

Character Development through Improvisation (Youth Series)
Presenter: Ashley Botting
Whether you're writing a character or playing a character on stage, you have to understand how that person thinks. Using improvisation, we'll learn to inhabit the minds and bodies our characters and potentially discover much more about who they are.
 
3:45 – 5:00 pm
Networking Event.  An opportunity for conference delegates to meet and mingle in this beautiful space. Location: Arts & Culture Centre Gallery.
 
8:00 - 9:30 pm
Evening Showcases. An evening of showcase performances of new original works from Newfoundland and Labrador. Hosted by Pete Soucy. Featuring: Peter MacDonald Productions – Trummp, The Musical; Best Kind Productions – Various Productions; A Terra Bruce Production - No Change in the Weather. 
Scroll to the bottom of the page for tickets or CLICK HERE.
Location: Arts & Culture Centre. 
Saturday, September 14
9:30 – 11:30 am
Stage Management
Presenter: Dianne Woodrow
SM DIALOGUE is a conversation led by Dianne Woodrow, who will draw on experience s from a career that spans classic drama, mega-musicals, opera, workshops of new plays and touring across North America.  Topics will include strategies for career building and engagement, musicals, workshops and the changing landscape of our business. There will be time to answer your questions.

Get Up and Go
Presenters: Morris Panych, Berni Stapleton and Robert Chafe
This is a part lecture, part question and answer, and part practical application, in which participants will hear tips and advice about applying their original ideas and concepts to the creation of a draft outline or template.  Participants will be expected to have some practical writing tools with them, either pen and paper, or computer.   Over the course of the two hours, we will try to put your ideas into ink.

Performance Technique (Youth Series)
Presenter: Jerry Etienne
This session concentrates on using voice and movement in the execution of performance and scene work. A valuable introduction to the processes exercised in post-secondary theatre programs for actors.
Saturday, September 14
1:15 – 2:45 pm
Set Design
Presenter: Ken MacDonald
An informal talk about designing for musical theatre. How it differs from ( and is the same as ) designing for a regular stage play. Through photos and drawings and questions and answers we can explore challenges of set design for musicals.

Heads Down
Presenter: Morris Panych
Keep writing; that's all.  Over the course of the workshop, participants will talk about application of their drafts into fuller pieces.  Either with the aid of draft ideas from the morning workshop, or draft ideas they have created on their own, participants will write an opening scene for their piece, including lyrics for an opening song (if a musical).

Building a Career in the Performing Arts (Youth Series) 
Presenters: Berni Stapleton and Robert Chafe
They will talk about the opportunities and challenges, as they describe their own trajectory as artists based in Newfoundland with international profiles.
 
3:30 – 5:00 pm  Tour of The Town of Gander . Take a tour with Rhonda Lane around Gander and see the sites that have been made famous by the amazing musical Come From Away.

7:30 - 9:30 pm  Closing Night Party. 
Hosted by Matt Wright. Interviews with Sue Frost, Berni Stapleton, and Robert Chafe. With special musical guest Rum Ragged.
Location: Gander International Airport.

Sunday, September 15
10:00 – 11:30 am 
Plenary Session.  Join us as we debrief about this year's Symposium and the future of the event. All perspectives welcome!
---
Presenters
Click here to read more about our incredible presenters!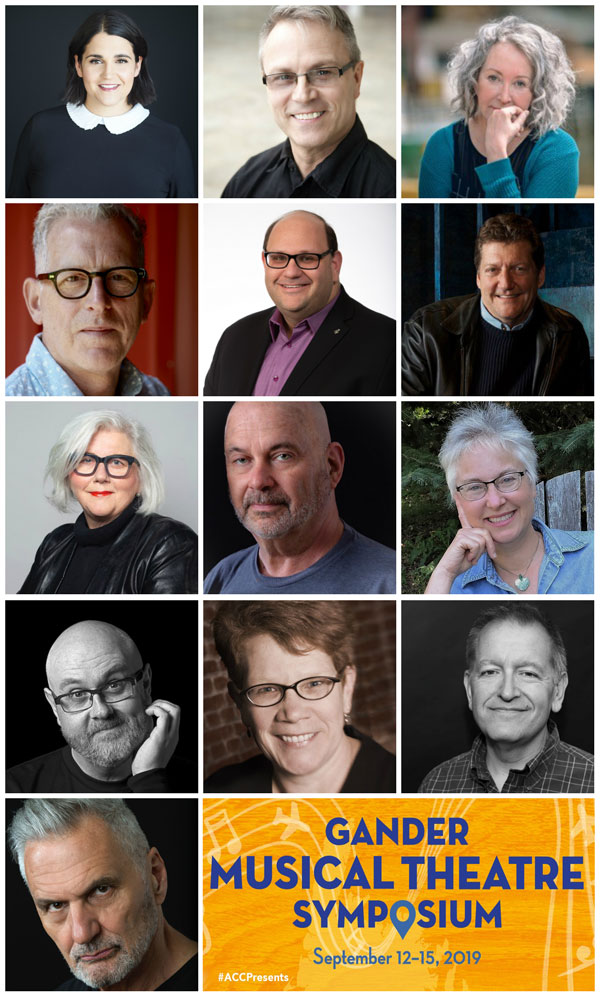 ---
Schedule at a glance
Schedule at a glance
GANDER MUSICAL THEATRE SYMPOSIUM

THURSDAY, SEPTEMBER 12

8:00 pm

Opening Night Concert – artists announced soon!

FRIDAY, SEPTEMBER 13

 

Main Theatre

Gallery

Board Room

Chorus Room

9:30 am - 11:30 am

Designing Come From Away: From Gander to Down Under

Presenter: Howell Binkley

 

Songwriting

Presenter: Leslie Arden

 

 

Razzle Dazzle, Legal Aspects of Theatre

Presenter: Michael Rubinoff

Youth Series -  Storytelling Through Improvisation

Presenter: Ashley Botting

 

12:00 pm

Lunch Break

1:30 - 3:30 pm

Theatrical Sound Design and Mixing

Presenter: Tony Meola

 

Costume Design

Presenter: Charles Schoonmaker

 

Producing New Musicals

Presenter: Sue Frost

 

Youth Series – Character Development Through Improvisation

Presenter: Ashley Botting

3:45 - 5:00 pm

Networking

6:00 pm

Supper

8:00 - 9:30 pm

Evening Showcases

SATURDAY, SEPTEMBER 14

 

Main Theatre

Gallery

Chorus Room

9:30 am - 11:30 am

Stage Management

Presenter: Dianne Woodrow

Get Up and Go: From Concept to Draft

Presenters: Morris Panych, Berni Stapleton and Robert Chafe

Youth Series – Performance Technique

Presenter: Jerry Etienne

 

12:00 pm

Lunch Break

1:15 - 2:45 pm

Set Design

Presenter: Ken MacDonald

Heads Down: Draft Editing

Presenter: Morris Panych

Youth Series - Careers in the Performing Arts

Presenters: Berni Stapleton and Robert Chafe

3:00 - 5:00 pm

Tour of the Town of Gander

6:00 pm

Supper

7:30 pm

Closing Night Party with host Matt Wright, interviews with Sue Frost, Berni Stapleton and Robert Chafe and special musical guest Rum Ragged

SUNDAY, SEPTEMBER 15

10:00 am - 12:00 pm

Strategic Planning for future Symposium
THU
---
Details
TICKETS: TBD
DATES:  September 12-15, 2019
TIME: Varies. Please see the schedule for more information
LOCATION:  GANDER, Joseph R. Smallwood Arts & Culture Centre