Gander Musical Theatre Symposium
September 12-15, 2019
Joseph R. Smallwood Arts & Culture Centre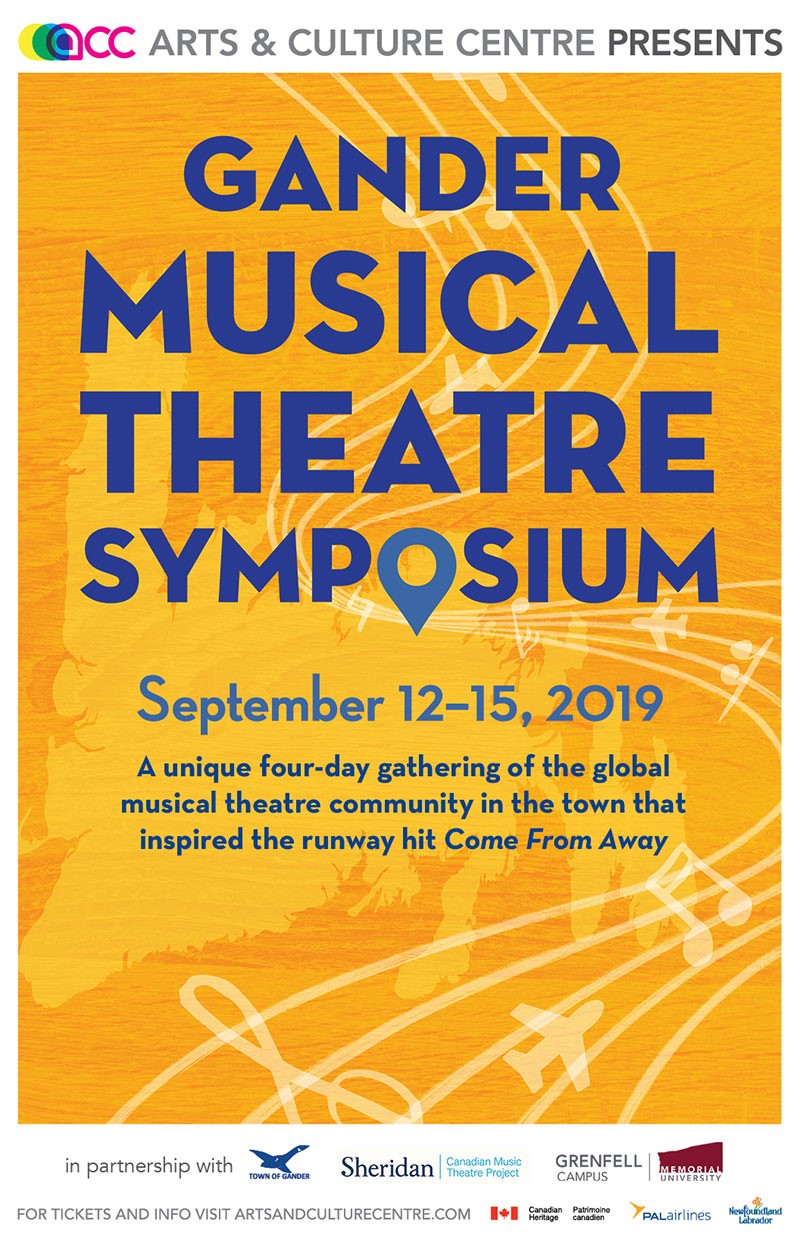 Synopsis
The Arts and Culture Centres of Newfoundland and Labrador are proud to partner with the Town of Gander, Sheridan College's Music Theatre Program, Grenfell Campus of Memorial University, and Beyond the Overpass Theatre Company to present this 4-day musical theatre symposium.  The Town of Gander is the subject of the internationally renowned musical Come From Away, and this symposium acknowledges the efforts of the creative team in bringing the story of this small town to the world's largest stages through this legacy event.

The Gander Musical Theatre Symposium will focus on the creation of new work in musical theatre, along with the development of design and technical theatre skills. Participants in the symposium workshops can be working at any stage in their career or level of practice. Under the instruction of top industry professionals, the symposium will:
Offer daily workshops in musical theatre creation, production, and design elements;

Host a youth series that focusses on core concepts of musical theatre and storytelling;

Provide access to both participants and members of the public to special showcase and performance events in the evenings;

Provide opportunities, such as a guided tour of Gander, for participants to experience the community and landmarks in Come From Away in fun and meaningful ways;

A strategic planning session on the final day to debrief and plan for future symposiums that are both responsive and visionary.
The symposium will be a singular event in the province of Newfoundland and Labrador and offers participants an opportunity to further their artistic practice through inclusive and dynamic sessions.
Full schedule, speaker and performer information will become available in the coming weeks on www.artsandculturecentre.com.
For details about applying to participate in both the Professional and Youth Series at the Symposium, the application form is now available.
CLICK TO DOWNLOAD APPLICATION FORM:

Please find below our schedule at a glance. This is still subject to change.
 
GANDER MUSICAL THEATRE SYMPOSIUM – SCHEDULE

THURSDAY, SEPTEMBER 12

8:00 pm

Opening Gala Concert

FRIDAY, SEPTEMBER 13

9:30 am - 11:45 am

Professional Series –

Lighting Design Concepts

Youth Series –

Storytelling Through Improvisation

Professional Series –

From Concept to Draft

12:00 pm

Lunch Break

1:30 - 3:30 pm

Professional Series –

Audio Design Concepts

Youth Series –

Character Development Through Improvisation

Professional Series –

Draft Editing

3:45 - 5:00 pm

 

Professional Series – Networking Event

 

6:00 pm

Supper

7:30 - 10:30 pm

Showcases

SATURDAY, SEPTEMBER 14

9:30 am - 11:45 am

Youth Series –

Singing Workshop

Professional Series –

Songwriting

Professional Series –

Producing the Musical / Standing It Up

12:00 pm

Lunch Break

1:30 - 2:30 pm

Professional Series –

Set Design Concepts

Professional Series –

Stage Management Concepts

Professional Series – Contracts, Licensing, Intellectual Property

3:00 - 5:00 pm

Tour of Gander

5:30 pm

Supper

7:30 pm

Closing Night Event

SUNDAY, SEPTEMBER 15

10:00 am - 12:00 pm

Strategic Planning for future Symposium
---
Details
TICKETS: TBD
DATES:  September 12-15, 2019
TIME:  See schedule
LOCATION:  GANDER, Joseph R Smallwood Arts & Culture Centre
ONLINE SALES: are available until 2 hours before a performance. After that time please call or visit the box office.