Sherman Downey
New Beautiful Album Release Tour
2021 TOUR
October 22 Gander
October 23 St. John's
October 28 Stephenville 
October 29 Corner Brook
October 30 Grand Falls-Windsor
*Our website has ONLY limited pairs available for sale online.
There are more tickets available by calling the box office.
Please call to book groups or single tickets.
---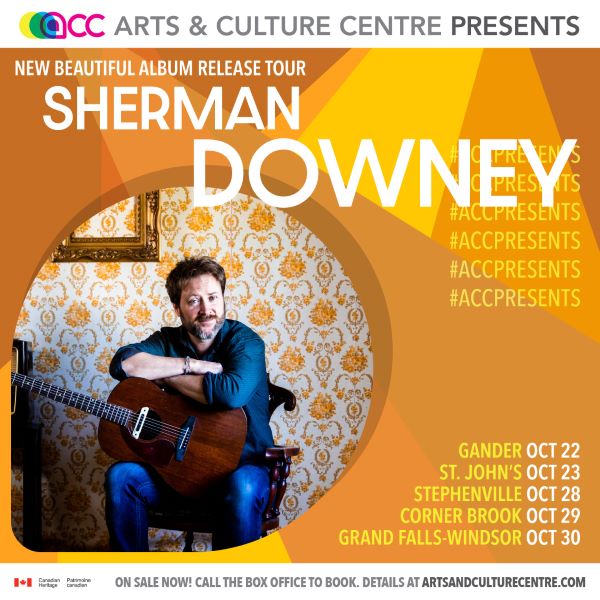 Synopsis
Sherman Downey's latest album, New Beautiful, is a showcase of the charm and versatility that has made him one of Atlantic Canada's favourite troubadours. The album has garnered acclaim in Canada and the UK and now it is finally being presented live to the people of his home province. 

Upon its release, New Beautiful earned immediate accolades with Maverick magazine hailing it as  "A record packed with positivity; orchestrated to paint a picture of a world rediscovered".  Subsequently, Sherman won the Solo Artist of the Year honour at the 2020 MusicNL awards as well the SOCAN Songwriter of the Year award.

New Beautiful takes Sherman's signature sound in bold new directions and is being presented at the Arts and Culture Centres with a full ensemble that will give Sherman's songs, both old and new, the depth and breadth they deserve. 

"On his long awaited third album, Sherman Downey graces us with songs that, from the first to last, rest gentle like the morning dew and peaceful as an evening sunset." - Douglas Mclean, Great Dark Wonder
---
---
Details
TICKETS:  $30 Each  HST & Service Charge Included
BOOK WITH YOUR BUBBLE: CALL the box office to book groups. HST & Service Charge Included
DATES/ LOCATION/ BOX OFFICE NUMBERS:
Click a date below to buy tickets to that location. At this time only pairs of tickets are available online. For single or group tickets please call the box office.
OCTOBER 22, 2021
GANDER, Joseph R Smallwood Arts & Culture Centre
709-256-1081
gaboxoffice@artsandculturecentre.com

OCTOBER 23, 2021
ST. JOHN'S, Arts & Culture Centre 
709-729-3900
sjboxoffice@artsandculturecentre.com

OCTOBER 28, 2021
STEPHENVILLE, Arts & Culture Centre
709-643-4553
svboxoffice@artsandculturecentre.com

OCTOBER 29, 2021
CORNER BROOK, Arts & Culture Centre
709-637-2580
cbinfo@artsandculturecentre.com 

OCTOBER 30, 2021
GRAND FALLS-WINDSOR, Gordon Pinsent Centre for the Arts
709-292-4518
gfwboxoffice@artsandculturecentre.com
SHOW TIME: 8:00 pm
SHOW LENGTH: 1 Hour
INTERMISSION: None
RECOMMENDED AUDIENCE AGE: All Ages
ONLINE SALES & GROUPS: We have PAIRS of tickets available online and you must book 2 tickets together.  Please contact the box office to book groups or single seats.
---
Theatre Seating & Booking with your Bubble
THIS EVENT IS BEING SOLD AT INCREASED CAPACITY with social distancing in place. If you have questions please contact the box office.
- For Fall 2021, we will have increased seating capacity, but we are continuing social distacing in the theatres .
- This means two seats directly in front of and behind you will be empty  and also two seats to the left and right of your seats.
- This will ensure physical distancing between bubbles/patrons seated in the theatres.
If you are not feeling well on the night of the event, or feel that you might have been in a compromised situation relating to COVID-19, then you must stay home. In this case, a full refund will be offered to you and members of your party by contacting the box office in advance or within 24 hours of a missed performance if you are unable to attend due to COVID-19.
Click here for more information on attending performances and venue protocols.
---
Buy Tickets