Rube & Rake in Concert
October 2021 TOUR
October 1 

Gander




October 2 

Grand Falls-Windsor


October 3 

Corner Brook


October 4 

Stephenville
*Our website has ONLY pairs available for sale online.
Please call to book groups or single tickets.
---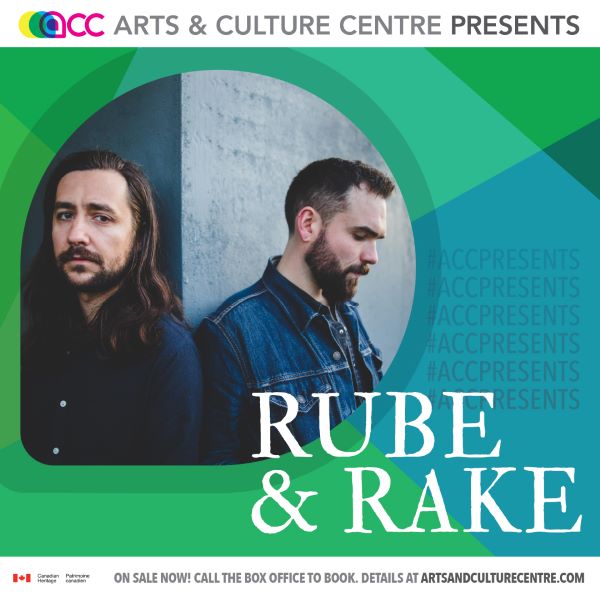 Synopsis
Rube & Rake are a Folk duo based out of St. John's, NL. Josh Sandu and Andrew Laite. Rube & Rake's new album begins with an ode to family and friends— togetherness—as Sandu declares, against a hopeful bluegrass backdrop, "somewhere there's a place to lay my head." Nine songs later, over a gently plucked guitar, he sings, "I won't go picking it up, the weight of the page is just too much." Following the award-winning 2017 debut Back and Forth, the band wanted to keep the core of that album's artistic successes—musical and collaborative harmony, folk storytelling—while recognizing audience expectations have intensified.

Sandu and Laite have always maximized the duo configuration—even singing together at a single condenser microphone, allowing for space and patience within the songs—but this is the first time they've consciously pushed outside it, to fill in that air with new tones and textures in the form of a full band. The resulting record evokes Blue Rodeo at its most rollicking, Great Lake Swimmers at their most thoughtful, and The Tallest Man On Earth at their most gently contemplative.
 
Want to know more about Rube & Rake? Check out their social channels:
Website: www.rubeandrake.com
Facebook: www.facebook.com/rubeandrake
Instagram: www.instagram.com/rubeandrake
Twitter: https://twitter.com/rubeandrake
Soundcloud: https://soundcloud.com/user-165640291
Spotify: https://open.spotify.com/artist/7eJZd5atenLBzTX4vmkky7?si=EhrKNplPQ9CV7tLEYe4WHw
 
---
Details
TICKETS:  $25 Full Price  HST & Service Charge Included
BOOK WITH YOUR BUBBLE: CALL the box office to book groups. HST & Service Charge Included
DATES/ LOCATION/ BOX OFFICE NUMBERS:
Click a date below to buy tickets to that location. At this time only pairs of tickets are available online. For single or group tickets please call the box office.
October 1, 2021
GANDER, Joseph R Smallwood Arts & Culture Centre
709-256-1081
gaboxoffice@artsandculturecentre.com
October 2, 2021
GRAND FALLS-WINDSOR, Gordon Pinsent Centre for the Arts
709-292-4518
gfwboxoffice@artsandculturecentre.com
October 3, 2021
CORNER BROOK, Arts & Culture Centre
709-637-2580
cbinfo@artsandculturecentre.com 
October 4, 2021
STEPHENVILLE, Arts & Culture Centre
709-643-4553
svboxoffice@artsandculturecentre.com
SHOW TIME: 8:00 pm
INTERMISSION: None
RECOMMENDED AUDIENCE AGE: All Ages
ONLINE SALES & GROUPS: We have PAIRS of tickets available online and you must book 2 tickets together.  Please contact the box office to book groups or single seats.
---
Theatre Seating & Booking with your Bubble
THIS EVENT IS BEING SOLD AT INCREASED CAPACITY with social distancing in place. If you have questions please contact the box office.
- For Fall 2021, we will have increased seating capacity, but we are continuing social distacing in the theatres .
- This means two seats directly in front of and behind you will be empty  and also two seats to the left and right of your seats.
- This will ensure physical distancing between bubbles/patrons seated in the theatres.
If you are not feeling well on the night of the event, or feel that you might have been in a compromised situation relating to COVID-19, then you must stay home. In this case, a full refund will be offered to you and members of your party by contacting the box office in advance or within 24 hours of a missed performance if you are unable to attend due to COVID-19.
Click here for more information on attending performances and venue protocols.
---
Buy Tickets