Christine Tassan et les Imposteures with special guest Duane Andrews
Presented by the Arts & Culture Centres le réseau culturel francophone de Terre-Neuve-et-Labrador et le Conseil Scolaire Francophone Provincial
Feb 18 Corner Brook | Feb 21 Stephenville
Feb 23 St. John's | Feb 26 Labrador West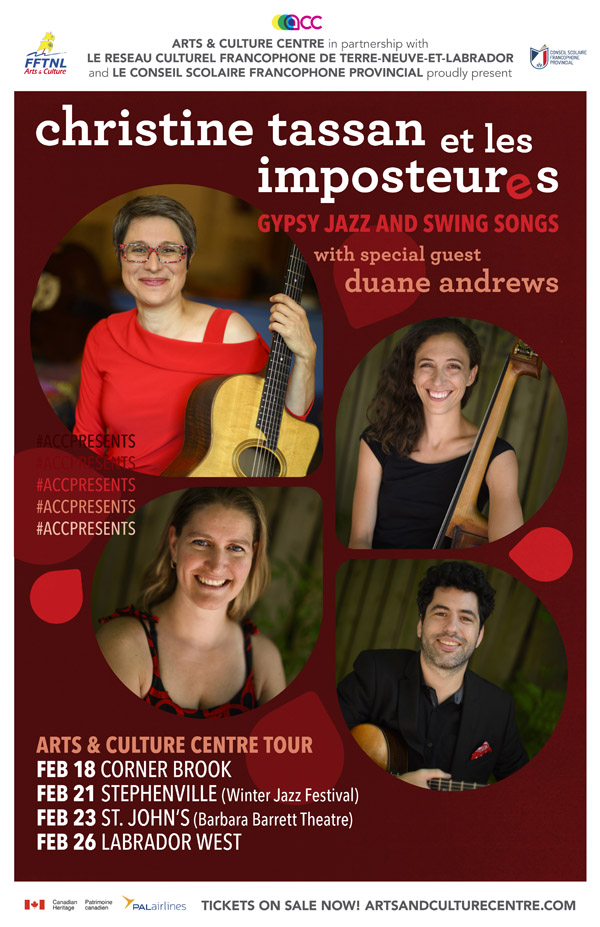 Synopsis
The Arts & Culture Centres, le réseau culturel francophone de Terre-Neuve-et-Labrador et le Conseil Scolaire Francophone Provincial présente… Christine Tassan et les Imposteures with very special guest Duane Andrews !
It has been ten years since Christine Tassan et les Imposteures started tending their craft in the gypsy jazz milieu and performing standards, and there is no doubt that they are definitely here to stay. Pioneers in a domain usually reserved for men and precursors of the gypsy wave that swept across Québec, this quartet continues to reinvent this timeless music while integrating new ideas and influences with an originality and flair we have become familiar with. From standards to original compositions, the Imposteures' musical arrangements innovate, rejuvenate and leave room for unbridled creativity.

Depuis déjà quinze années qu'elles roulent leur bosse dans le milieu du jazz manouche et de la chanson revisitée, Christine Tassan et les Imposteures sont définitivement dans le paysage musical pour y rester. Véritables pionnières dans un domaine d'ordinaire réservé aux hommes et précurseures de la vague manouche qui a déferlé sur le Québec, ces quatre musiciennes réinventent avec la singularité qu'on leur connaît une musique qui, loin d'être figée dans le temps, s'adapte au contraire à toutes sortes d'idées nouvelles. Des reprises aux compositions, les arrangements des Imposteures innovent, dépoussièrent, laissent place à la créativité débridée.

Duane Andrews' music is the product of a great ear, an adventurous spirit and a love of music that is beyond category. Uniting what would seem to be impossible – traditional Newfoundland music with the swing jazz of the legendary Django Reinhardt, Andrews makes it not just work – he makes it soar. The Juno award winning producer, composer, guitarist and globetrotting performer's latest album, Conception Bay, is the best evidence yet of his truly unique musical vision and is the sound of him, literally, bringing it all back home.
Details
TICKETS:  $30 Adult | $25 Students & Seniors Each HST & service charge included
SHOWTIME: 8:00 pm
DATES & LOCATION: Click a date to buy tickets to that centre.
February 18 - CORNER BROOK, Arts & Culture Centre
February 21 - STEPHENVILLE, Arts & Culture Centre (As part of the Stephenville Winter Jazz Festival. All Access Pass Available in link below)
February 23 - ST. JOHN'S, Arts & Culture Centre - Barbara Barrett Theatre
February 26 - LABRADOR WEST, Arts & Culture Centre *Please note: Showtime is 8:00 pm
RECOMMENDED AUDIENCE AGE: All Ages
SHOW LENGTH: 2.5 hours
INTERMISSION: Yes
ONLINE SALES: Online sales for all shows are available until 2 hours before showtime.
BOX SEATS: The St. John's Arts & Culture Centre has box seats. To check on availability and to book these seats call the box office at 709-729-3900 (they are not available online).