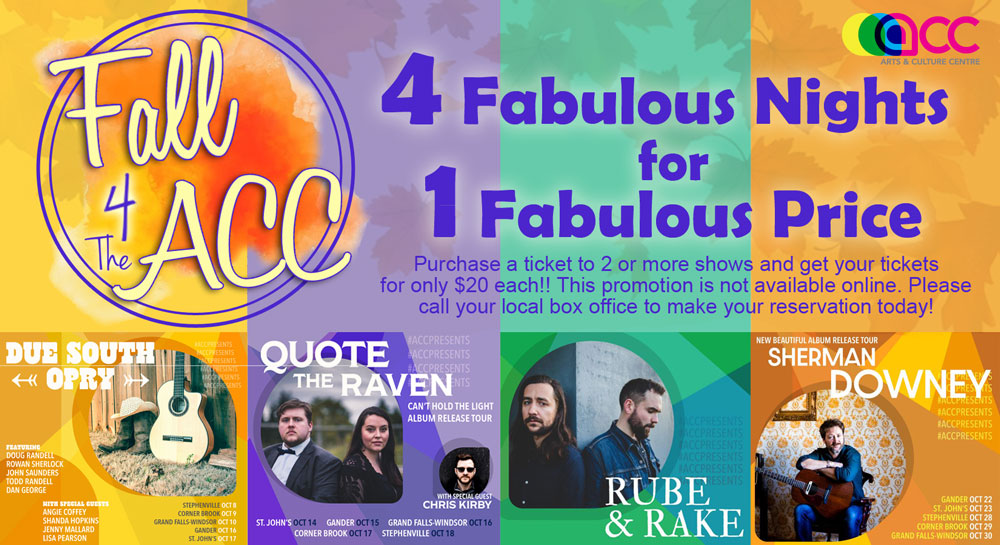 We want you to Fall 4 the ACC in October
4 Fabulous Shows
1 Fabulous Price!
It's that time of the year, summer is officially over, school and work routines are back, and the Arts & Culture Centres have an amazing line-up as part of our #ACCPresents series. We want to invite you to Fall 4 the ACCs in October.  
Fall 4 the ACC is simple. Buy tickets to 2 or more of our fabulous 4 shows for $20 each.  Need 5 seat for one show and 3 for another?  No problem: $20 each. 
All of these shows are amazing artists from our province. Click on a show title to learn more:
Rube & Rake
Due South Opry
Quote the Raven
Sherman Downey
Join us and celebrate the abundance of talent in our province.
This offer is not available online. To purchase tickets call or email the box office and our staff are standing by!
---
Theatre Seating & Booking with your Bubble
THIS EVENT IS BEING SOLD AT INCREASED CAPACITY with social distancing in place. If you have questions please contact the box office.
- For Fall 2021, we will have increased seating capacity, but we are continuing social distacing in the theatres .
- This means two seats directly in front of and behind you will be empty  and also two seats to the left and right of your seats.
- This will ensure physical distancing between bubbles/patrons seated in the theatres.
If you are not feeling well on the night of the event, or feel that you might have been in a compromised situation relating to COVID-19, then you must stay home. In this case, a full refund will be offered to you and members of your party by contacting the box office in advance or within 24 hours of a missed performance if you are unable to attend due to COVID-19.
Click here for more information on attending performances and venue protocols.