Revue 2016
Presented by Rising Tide Theatre in association with the Arts & Culture Centres
On Tour: January - March 2017
 

Revue 2016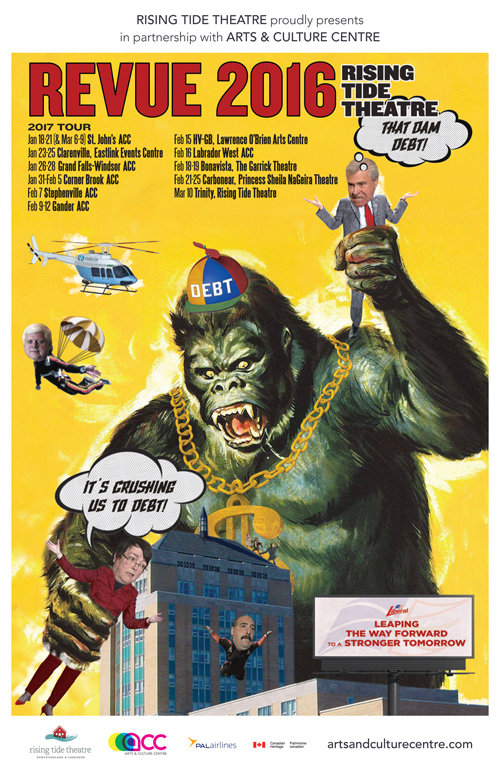 At Rising Tide we've started to dissect the year for REVUE 2016. We're turning this sow's ear into a silk purse.  It's like peeling and onion and it brought tears to our eyes. It's been such a happy year in the Happy Province. 
Cathy Bennett found new ways to get blood from a turnip. Her latest idea – a fresh air fee. Heavy breathers are a menace to society so Bennett is proposing a FRESH AIR FEE. "This is not a tax" she insisted. "We take our clean air for granted. Not anymore, you'll learn to appreciate it when you have to pay for it."
Dale Kirby spent millions on all day kindergarten and saved thousands by closing Libraries. Unfortunately tiny tot teachers will have to introduce their prepubescent preschoolers to books because most will never have seen one.  "Kids don't need books" the minister said. "Let them read television".
Meanwhile schools around the province are closing due to budget restraints. Milton Peach, school board trustee says why close schools?  "Why don't we just close communities? Then we won't have to deal with bussing either." 
Andrew Parsons has come up with a scheme to replace the courtroom in Happy Valley-Goose Bay. They will only have a night court. Students will use the gym in the daytime. Prisoners will be housed at the SPCA. "It's time we treated inmates at least as well as we do stray dogs," he said.
Siobhan Coady announced another loan guarantee from the federal government. This time it's to pay for Ed Martin's severance package after he quit NALCOR. 
Ryan Cleary needs a job, so after losing his NDP job and failing to win his PC job, he's looking for a job as leader of the breakaway FISH NL. He's hooked, 'cause to qualify you need a big mouth.
Happy? We're so happy we could… speaking of which, don't miss RTT's Tales from the Crapper featuring Paul Lane in "The Telltale Fart", David Barzil as "THE FLY" (Help me! Help me!), and Earle McCurdy as "The Invisible Man".
Revue opens the show in St. John's in January, and for the first time, will also close the show in St. John's at the end of the tour in March. 
It started in 1984 as a three-night show, a commentary on the events of the previous year and a way to give Newfoundlanders a collective sense of who we are and how our great sense of humor keeps us sane. Now into its 33rd season, Revue continues to fill the province's Arts and Culture Centres and beyond.
2017 TOUR DATES:
January 18-21 (& March 6-9) - St. John's Arts & Culture Centre
January 23-25 - Clarenville, Eastlink Events Centre
January 26-28  - Grand Falls-Windsor ACC
January 31- February 5 - Corner Brook ACC
February 15 - Happy Valley-Goose Bay, Lawrence O'Brien Arts Centre  
February 16 - Labrador West ACC
February 18-19 - Bonavista, The Garrick Theatre
February 21-25 - Carbonear, Princess Sheila NaGeira Theatre
March 10 - Trinity, Rising Tide Theatre
Click a date above and the Buy Ticket link will appear for the appropriate location below. Please ensure you're purchasing ticket for the correct venue! Links to non Arts and Culture Centre (ACC) venues will direct you to their websites.
Availability

 
  Excellent
 
  Good
 
  Limited
 
  Sold Out
QUICK INFO
Performance
Rising Tide Theatre's
Revue 2016
2017 Tour Dates
January 18-21: St. John's
January 23-25: Clarenville
January 26-28: Grand Falls-Windsor
January 31-February 5: Corner Brook
February 7: Stephenville
February 9-12: Gander
February 15: Goose Bay
February 16: Labrador West
February 18-19 : Bonavista
February 21-25: Carbonear
March 6-9: St. John's
Venue
Provincial ACCs and partner circuit venues
Price
$30 Adults
$28 Students & Seniors (60+)
(HST and Service Charge Included)