The Kitchen Party Theatre Festival
Presented by Gordon Pinsent Centre for the Arts
& Kitchen Party Theatre Company
August 2020
Tune into: From Our Kitchen to Yours
A Sunday Morning Podcast on Facebook
---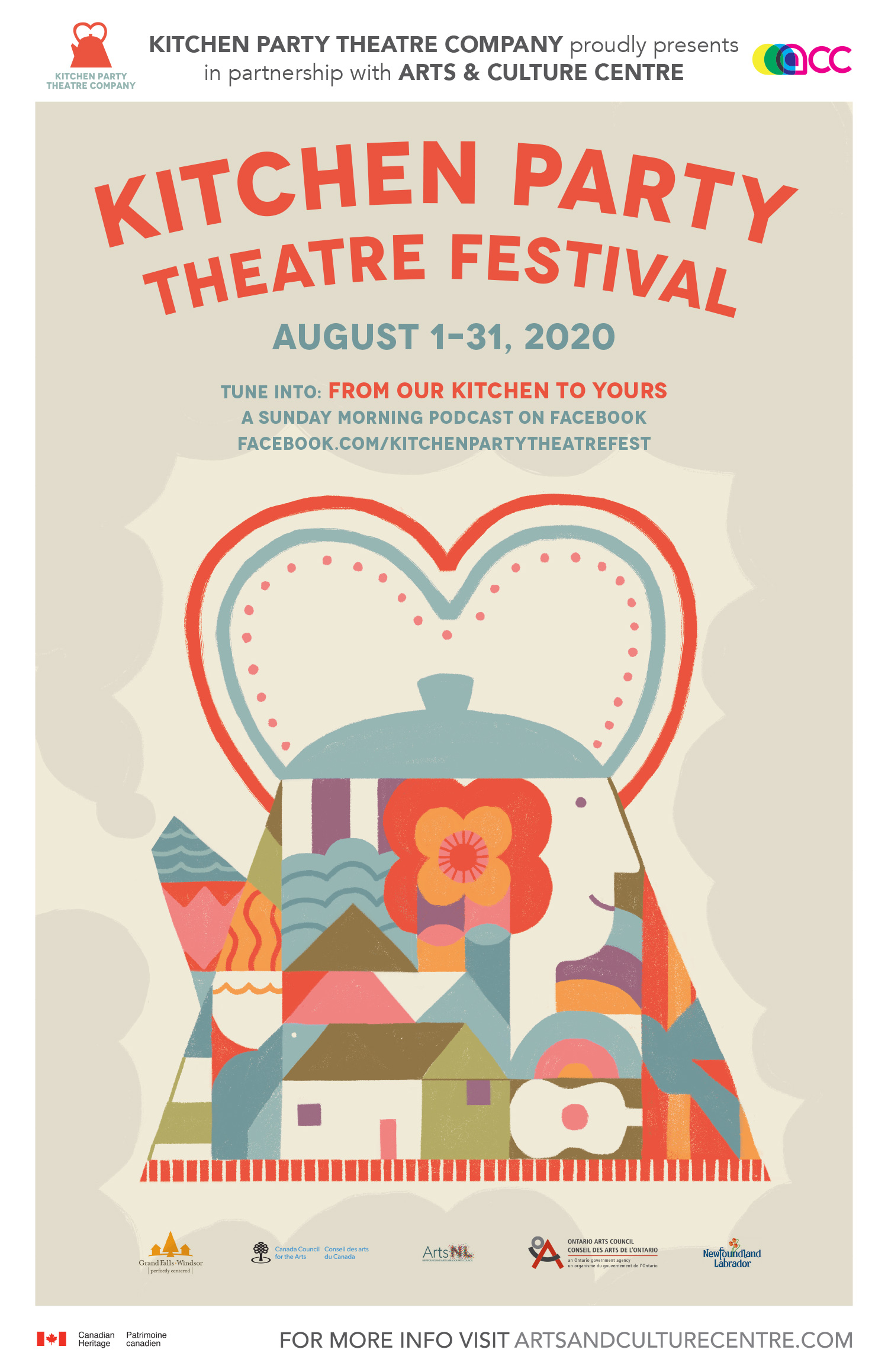 Synopsis
We are proud to announce the inaugural season of The Kitchen Party Theatre Festival – where the kettle is always on and our hearts are always open. This brand new festival is nestled in Grand Falls-Windsor, right in the kitchen heart of Newfoundland and Labrador.

The Kitchen Party Theatre Festival is the creation of and under the direction of co-Artistic Directors Bernardine Stapleton and Nicole Smith. Their mission is to create and present high end, authentic, traditional, experiential theatre and to animate extraordinary stories from ordinary people through theatre, art, and music, connecting with the beautiful vista of Central Newfoundland. The heart of every home is the kitchen. Our province is renowned for and may even have invented the kitchen party. The kitchen is the center of home, where people gather to celebrate and eat. It's where we share the stories and songs of who we are. The Kitchen Party is where strangers become friends and friends become family. It's where memories are made.

This year we were poised to launch in head first but, in these times of COVID, we are launching our first season as a virtual experience, available across the country and beyond! In August, The Kitchen Party Theatre Festival launches digitally with two theatre workshops and a Sunday morning podcast series.

From Our Kitchen to Yours (podcast) :  a limited podcast series, airing Sunday mornings in August (August 2, 9, 15, and 23). This is a series of lively and eclectic 30-minute episodes hosted by Berni and Nicole, and featuring a plethora of talented musical guests, interviews with local makers and shakers, and bits and pieces from Kitchen Party Theatre Festival's upcoming mainstage shows. Audiences can tune in to the podcast on the festival Facebook page.

Girls From Away (workshop) : we are remotely workshopping the true and untold story of 'the mill girls.' During World War II, hundreds of young, single women were recruited from Central Newfoundland to work at Dominion Woollens in Cambridge, Ontario – the largest textile mill in the world. By the 1970s, one in four Cambridge residents could trace their roots back to Newfoundland, all because of these women. This is a development workshop process in preparation for a production in 2021. Be sure to tune into the podcast for readings!

Brass Rubbings (workshop) : we are also workshopping a never-produced work by Gordon Pinsent! It is a gem, totally Gordon Pinsent in tone, wit, and charm. Brass Rubbings centers on the Warrack family in the early 80s. Daphne Agnes Warrack occupies the family home now and seeks to keep the premises up to its fine long-standing standards with the help of her hapless groundskeeper, Freddy. But the neighborhood is not what it used to be as it's surrounded by local thugs and prostitution. Returning home from jet setting and globetrotting are her sister Mo, and Mo's ex and family friend, Justin. As the family prepares for Dominion Day and reminisces about past dalliances and family matters, a new presence, a neighborhood presence comes into the mix and threatens to disrupt the order that Daphne tries to maintain. This play was written as a fundraiser and performed once in 1988 with Pinsent himself portraying Justin. It seems fitting that (with his complete blessing) we bring it to life in his home town.

The Kitchen Party Theatre Festival is made possible through partnerships with the Arts and Culture Centres specifically the Gordon Pinsent Centre for the Arts, and the Town of Grand Falls-Windsor along with a host of other funders including Arts NL, the Ontario Arts Council, the Canada Council for the Arts, and CEDP.

To find out more about The Kitchen Party Theatre Festival please follow us on Facebook at www.facebook.com/kitchenpartytheatrefest.
---
Details
PODCAST LINK: This is a non-ticketed event. Tune in to the podcast on Sunday mornings: www.facebook.com/kitchenpartytheatrefest
SHOWTIME: Sunday mornings in August on Facebook Live.
DATES & LOCATION: 
August 1-31, 2020 - GRAND FALLS-WINDSOR, Gordon Pinsent Centre for the Arts
RECOMMENDED AUDIENCE AGE: TBD