Joan Morrissey - A Tribute
With Her son, Tom Morrissey
Tour Dates:
*Click a date above and the link for tickets will appear below*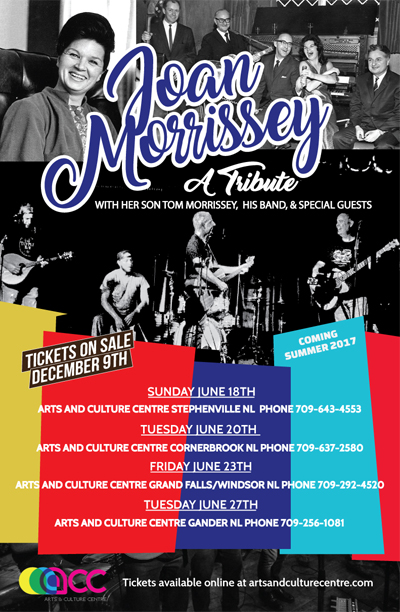 Joan Morrissey is widely considered to be "Newfoundland's First Lady Of Song. Born in St. John's, Newfoundland on January 23, 1933, she was one of ten children. Entering the workforce at only thirteen years of age, she quickly moved up in the music industry of her home province of Newfoundland. Starting in the early 1960s, she began her career as a singer hosting and singing on local radio programs on CJON, VOCM, and CBC Radio.
With the success of her fourth album, "Home Brew" selling 50,000 copies, and reaching gold status, Joan received honorary awards from the Newfoundland Easter Seals, followed in 1972 by a JUNO nomination. As well in the same year she was awarded Newfoundland's Musical Ambassador of Good Will by the Provincial Government. Many her of songs are an homage to Newfoundland lifestyle and are still heard on Canadian radio stations today. Some of her most notable songs include "Thank God We're Surrounded by Water", and "CN Bus". A recently published biography, Yes My Dear..., was nominated for the 2005 Heritage and History Award for Newfoundland and Labrador. Written by her eldest daughter Debbie Morrissey.
Her son, Tom Morrissey Jr. (guitar and vocals),was born in Newfoundland is now living in British Columbia playing his mom's songs to a new generation.
His band consists of: 
Ian Todd, Bass, from Ottawa, ONT.
John Paul Kelly, Guitar and Mandolin, from Fort St Johns BC.
Levi Lawson, Drums, from Smithers, BC.
Katylin Pike, Vocals, from Dildo, NL.
Andrew Pretty, Piano and Accordion, from Dildo, NL.
The show consists of all Joan Morrissey's hits both Country and Newfoundland traditional songs.