ACC Presents 2017-18 Fall/Winter Season
The Arts & Culture Centres announce Presentation line up. Tickets are on sale now!

FOR IMMEDIATE RELEASE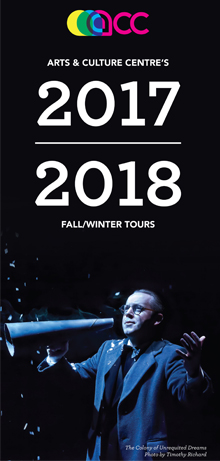 July 18, 2017 (Newfoundland & Labrador) - The Arts and Culture Centre (ACC) Presents Series features the highest calibre performances in theatre, dance, and music from Newfoundland and Labrador, across the country and from a diversity of different backgrounds. With over 106 performances across the province, the 2017-2018 Fall and Winter season is filled with some of the most exciting new shows touring today along with crowd-pleasing

favorites

bringing their latest work to the stage.
 
From large touring theatre productions to flamenco dance, to folk music and contemporary dance, the ACC Presents Fall and Winter tours will have something for everyone, of all ages. This season will showcase several special Canada 150 Performance Series artists, delivered in partnership with the Atlantic Presenters Association, including the world-renowned Susan Aglukark and

Kaha:wi

Dance Theatre's Medicine Bear for young audiences.
 
We are thrilled to offer audiences the opportunity to see multiple world-class large theatre productions.
 
First to tour will be the National Arts Centre's production of Tartuffe . This show was a hit in Ottawa, and we're excited to bring it back to Newfoundland! Molière's classic, and directed by Jillian Keiley, is reimagined for pre-confederate Newfoundland, with

sharp

wit and biting satire courtesy of Andy Jones. This show has an incredible cast that will include both Robert Joy and Greg Malone!
 
After a sold out run in St. John's in 2015 and much demand for it to tour the province, the ACC will present Artistic Fraud of Newfoundland's The Colony of Unrequited Dreams . Based on the novel by Wayne Johnston, adapted for the stage by Robert Chafe and directed by Jillian Keiley – we could not think of a better story to tell around the St. John's ACC 50th Anniversary and Canada 150 as we explore our early relationship with Canada.  This show features Colin Furlong, Carmen Grant, Brian Marler, Jody Richardson, Darryl Hopkins, Steve O'Connell, Paul Rowe, Bernadine Stapleton, and Willow Kean.
 
Finally, after three years of hard work on this show, we will partner with Resource Centre for the Arts Theatre Company to tour Dedication . It tells a World War I story, but from a perspective that you may never have heard before. This show was written by Edward Riche, directed by Charlie Tomlinson and will be played by David Ley, Edmund Stapleton, and Allison Kelly.
 
We encourage audiences to see these three exceptional and accessible theatre shows, through our Fall Theatre Ticket Package. If you purchase any two of more of these theatre shows, you'll receive a $10 discount off EACH ticket (turning a $35 ticket to a $25 ticket). Come and see them all and let us know what you think!
 
Kicking off the season will be a partnership with Comedy 150 Inc. to present Canada, It's Complicated , a brand new comedy show developed by Mary Walsh featuring Canada's leading comedians, writers and performers. The Newfoundland and Labrador dates will be the first in a big, national tour of the show!
 
In collaboration with our partner venues, the ACC will be bringing a wonderful Christmas show to all of the Centres, as well as venues in Burin, Placentia, Lewisporte, and Cupids. A Time in the Old Hall: Songs and Recitations of the Season will feature From Stage to Stage (Dave Paddon, Hubert Furey, Harry Ingram and Dave Penney) with musical guest Sherman Downey will be a wonderful time out for the whole family.
 
The season wouldn't be complete without our partnerships with Buddy Wasisname and the Other Fellers and their 'Best of Tour' in the fall and Rising Tide Theatre for Revue 2017 in the new year, which will be touring across the province to delighted audiences again this year.
 
This season also includes up-close and personal artistic experiences across the province through our Artists- In-Residence (AIR) Program. This program will include flamenco dance workshops with Raices y Alas Flamenco in Gander and Corner Brook. In Labrador West, the Swinging Belles will be teaching songwriting in schools and the Daly Family Collective's will be delivering workshops in theatre and dance, in addition to their public performances.  On the west coast, Tara Manuel will be working on a puppetry play for young audiences at the Centre in Corner Brook this fall. The award-winning author and playwright, Edward Riche, will be the Artist-In-Residence for 2017-18 in St. John's.
 
We will also be celebrating the Arts and Culture Centre's 50th Anniversary in St. John's this year, which will include special performances, tours and activities throughout the year as we acknowledge the momentous opening in 1967. This will also include a very special re-write of Des Walsh's version of Tomorrow Will Be Sunday . This was the first performance on the ACC St. John's main stage and will be read in the Barbara Barrett Theatre September 22 and 23. We'll also be welcoming Christopher House and Toronto Dance Theatre back to St. John's with their own

50

th

anniversary

show, entitled House Mix , which will be presented in partnership with

Neighbourbood

Dance Works. More details about the

50

th

anniversary

activities will follow!
 
We're looking forward to filling the houses for these amazing shows. Each performance is detailed in the ACC Presents 2017-18 Fall/Winter Tour brochure, available online or for download.
 
Follow us for all the latest information with our hashtag #ACCPresents.

-30-

CLICK HERE TO SEE OUR SEASON BROCHURE FOR A FULL LIST OF "ACC PRESENTS" TOURS THAT ARE ON SALE NOW!
Media Contacts:

Katie Jackson
Marketing and Promotion
Arts & Culture Centre
kjackson@artsandculturecentre.com


709-729-2340



Erin Barnhardt
Programming Manager
Arts & Culture Centre
ebarnhardt@artsandculturecentre.com
709-729-5243